The Oregon Legislature is on track to make it safer for sex workers and victims of sex trafficking to report violent crimes.
Sponsored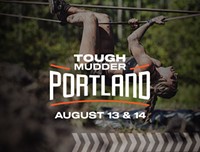 Lock in your summer adventure, Portland. Join us for world famous obstacles over a 5K or 10K distance.
Under the proposed legislation, Senate Bill 596, people who report a "person felony" (a felony crime committed against a person) to a police officer and, in doing so, reveal that they are a sex worker or a victim of sex trafficking, are protected from being prosecuted on prostitution charges.
The bill, which has attracted no opposition, is expected to be introduced on the Senate floor by Milwaukie Senator Kathleen Turner next week.
Before going further, here's an important reminder: Sex workers and victims of sex trafficking are entirely different groups of people. Sex workers willing chose to sell sex while those being trafficked are involuntarily forced or coerced into prostitution. Like many bills addressing the black-market sex industry, SB 596 bundles both sex workers and trafficking victims into the same piece of legislation. Regardless, the bill serves to protect both groups of people.
SB 596 was penned by the Multnomah County District's Attorney office's human trafficking team, lead by Senior Deputy District Attorney JR Ujifusa. Ujifusa says that Multnomah County prosecutors have been already following SB 596's guidelines for nearly a decade—but he wanted to codify the standard accross Oregon.
"We want everyone in Oregon engaged in prostitution to feel comfortable coming forward to report a crime," Ujifusa told the Mercury.
Ujifusa said that for many people being sex trafficked, their trafficker is quick to remind them that if they go to the police, they'll be arrested for prostitution. Under SB 596, however, a victim will be able to tell law enforcement that they're being trafficked or subject to slavery (both person felonies) and not face criminal prosecution.
"We consider ourselves victim-centered and offender-focused," said Ujifusa.
And for those who voluntarily engage in sex work, he said, "we want them to know they can report serious crimes and avoid prosecution."
The legislation is a big win for people working in the sex industry and their advocates. Sex workers are disproportionally victimized because of the perception that they (or their colleagues) won't report a crime to the police, fearing prostitution charges. Currently, sex workers share information on abusive or dangerous clients through online forums like Portland's Bad Date Line—but there aren't any legal protections for people who willingly selling sex.
Not only would SB 596 offer a new level of safety to sex workers, but it would help the state collect accurate data around crimes regularly committed against sex workers, like rape, assault, theft, kidnapping, stalking, and murder.
Stroll PDX, an organization that advocates for local sex workers, sent a statement to the Mercury in support of SB 596:
"We know that people who commit assaults will often choose people with decreased access to safety and system. We have seen and heard clients and predators threaten us with violence on the basis that we can't report because we are the true criminals.

This legislation sends a strong message to police and to predators that workers deserve respect, dignity, and safety; that our assaults are real and valid and that it is unacceptable to diminish or minimize the violence we experience."
However, Stroll PDX pushed back on Ujifusa's claim that the protections mandated SB 596 are already in practice in Multnomah County. Specifically, the group noted, that while local sex workers may not be prosecuted in court for reporting violent crimes, they often are arrested.
"Arrest and prosecution are wildly different things, and when a worker has experienced an assault and is met with a night or two in jail, that worker is sent a very strong message about their worth and credibility in the eyes of law enforcement," reads Stroll PDX's statement.
"We know that law enforcement has dissuaded people from following through on reporting with threats of facing prosecution themselves, and fundamentally not seen people who engage in the sale of sex as people who they have to treat with respect and dignity, much less victims of crimes."