In case you missed it over the 4/20 weekend, Netflix released
Grass Is Greener
, a documentary that explores America's complicated relationship with cannabis. And
holy shit
, is it riveting. Directed and narrated by Fab 5 Freddy (AKA Fred Brathwaite), the thing starts off detailing just how many influential jazz musicians used cannabis for creative purposes (back then, they called it "jive"), and began the process of normalizing its use for the masses. The film then gets into how hip-hop and reggae music influenced our culture's views surrounding weed. In addition to various experts and scientists, there are interviews with music legends like Snoop Dogg, Killer Mike, Damian Marley, DMC, Cypress Hill's B Real, Chuck D, Doug E. Fresh and others.
As the film explains, more and more states are legalizing recreational cannabis, making the country's relationship with weed—and anti-drug enforcement—even more complicated. Since Oregon is one of the whitest and most weed-friendly states, I half-expected the hip-hop themed dispensary Green Hop (one of Portland's only Black-owned pot shops) to be included in the film. Instead, Portland's recreational cannabis program is spotlighted by an interview with cannabis entrepreneur Jesce Horton, owner of LOWD, and co-founder of the
Minority Cannabis Business Association
.
Horton speaks on the challenges of getting into the craft cannabis market, and thriving in an industry that's largely (and ironically) white-washed. Horton says he was arrested three times for cannabis possession—each time having less than two grams on his person—and explains how those arrests followed him for years, and even got him kicked out of college.
Along with lots of scenic shots of Portland, and a stop at
Oregon's Finest
, the city is also represented by former Trail Blazers star Cliff Robinson. Robinson, who played for the Blazers from 1989-1997, was also arrested at a young age for possessing a small amount of cannabis, and received numerous suspensions throughout his two-decade career in the NBA. Luckily, today Robinson is a successful cannabis entrepreneur and sells products under his
Uncle Cliffy
brand name.
At first,
Grass Is Greener
is a fun music-and-cannabis history lesson, but as the story proceeds we are able to learn just how devastating the war on drugs has been for communities of color, and how, in certain parts of the country, it still is. The film basically cements the fact that we need science-based legislation in the United States, not more propaganda. The doc should make you angry, and feel
super privileged
for being able to enjoy the perks of legalization.
Grass Is Greener
makes it plain : Americans should be embarrassed by the generations of elected leaders who've let societal misconceptions about weed become a scapegoat for the ongoing reckless extermination of Black and brown people. Watch the film and weep (and then go support a POC-owned pot shop).
Sponsored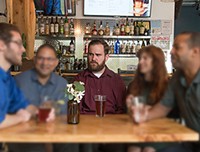 Adults aged 18-35 with good hearing will be paid for their time. Located at the Portland VA Medical Center