A Tillamook-linked Oregon dairy wants to convert its cow manure to natural gas and ship it to California. Many Oregon environmental groups are taking action to stop the plan, which they say would unfairly reward the mega-dairy—and possibly lead to more pollution for Oregonians.
Sponsored
Sketch comedy troupes from all over N. America descend on The Siren Theater for 3 glorious nights.
"We think this is a step in the wrong direction," says Amy van Saun, a senior attorney with the Center for Food Safety.
With 70,000 cows, Threemile Canyon Farms is Oregon's largest dairy farm. Located in Boardman, in the Northeastern corner of the state, Threemile has long caught the ire of environmental advocates for emitting ammonia and greenhouse gases, which experts believe have caused haze and acid rain in the Columbia River Gorge National Scenic Area. Oregon doesn't currently track mega-dairy pollution, but the federal Environmental Protection Agency (EPA) found that Threemile's ammonia emissions were among the worst in the country in 2005.
In addition to being one of Tillamook's largest dairy suppliers, Threemile currently operates a profitable side business using a device called a "digester" to transform its cow manure to electricity. Now, the mega-dairy wants to take that operation a step further: As OPB reported last week, it plans to start using a digester to produce natural gas (instead of electricity), and ship that gas to California using the existing fossil fuel pipeline infrastructure. Under California's cap-and-trade system, in which use of renewable energy is financially incentivized, Threemile's natural gas would be a hot commodity.
"Threemile stands to make the most profit off of it if it can sell it into an existing cap-and-trade system," says Tarah Heinzen, the senior staff attorney at Food & Water Watch. "But this isn't renewable energy. This isn't clean energy."
Food & Water Watch and the Center for Food Safety are two of many Oregon environmental groups working to keep Threemile from selling its natural gas. Heinzen and van Saun say that classifying gas produced at a dairy as "clean energy" is misleading, because it fails to take into account the overall pollution farms like Threemile contribute to the Oregon environment.
Mega-dairies are known to contribute greenhouses gases and other dangerous pollutants like ammonia and hydrogen sulfide into the air. The environmental groups opposing Threemile's plan point to a recent report from the American Lung Association that gave Umatilla County—which is downwind from Threemile—an "F" for high ozone days, or days when air pollution is so bad that people are advised to stay inside.
Before it can proceed with its plan, Threemile must obtain an Oregon Title V Permit, which is required for projects that fall under the purview of the federal Clean Air Act. However, the permit would apply only to the environmental implications of the new digester itself—rather than considering the overall impact of Threemile's entire dairy operation.
That means that the day-to-day pollution that happens at the dairy can continue unchanged, and that only the new gas-conversion endeavor will be subject to regulatory scrutiny. The environmental coalition that opposes the plan pointed this out in its public comment on the permit application.
"We made an argument that the whole dairy is really the source, and it's illegal for the state to segment off this new construction, and make it the only segment that falls under the Clear Air Act," Heinzen says.
This perhaps wouldn't be such a major point of contention, Heinzen and van Saun say, if Oregon already had sound regulatory practices when it comes to major commercial dairies. But Oregon currently does little to track and regulate air pollution at its mega-dairies—despite the work of a state task force earlier this decade, and many failed legislative attempts to change that status quo.
"The complete failure of leadership on this issue in Salem has been really discouraging," van Saun says. "Agribusiness is still extremely powerful in Salem."
Van Saun and Heinzen worry that if Threemile is granted the permit to ship its gas to California, it will expand its operations in order to create more gas—in effect, it would be "using the animals as gas-producing machines," Heinzen says. The permit Threemile is applying for would allow the dairy farm to grow to about 90,000 cows, meaning air pollution could get even worse.
After the now-open DEQ public comment period for Threemile's permit closes, the EPA will have a chance to review it as well. There isn't a set timeline for when it will be either granted or denied.
In the meantime, Oregon environmental advocates are hoping government officials will see through Threemile's supposed clean energy plan.
"It's a really terrible greenwashing," Heinzen said.
Sponsored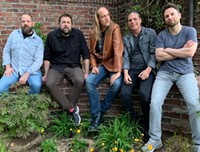 Rediscover the sounds of RUSH through The RUSH Collective - This Friday, June 24 at The Doug Fir.