A Portland activist dumped a bucket of dirty syringe needles and caps on the sidewalk outside of Outside In's needle exchange facility last Thursday in a so-called "act of civil disobedience."
Sponsored
Sketch comedy troupes from all over N. America descend on The Siren Theater for 3 glorious nights.
Brandon Farley documented his crime on Twitter, posting a photo of himself with a bucket and the messages "Time for me to Clean Up the I-405 and Evict all the Homeless Druggies" and "Drug Debris Returned to their Place of Origin."
Farley regularly uses Twitter to share photos of Portlanders who appear homeless, mentally ill, or have a substance use disorder. Usually the strangers are photographed asleep or unconscious from drug use. He often makes fun of his photo's subjects, calling them "hobos," "junkies," or "bums."
Farley, who claims to be "spreading awareness" with these videos, is parroting a message that's been spread by conservative groups for decades: That syringe exchange programs add to a city's addiction and homelessness problems.
Which means, in return, it's time to spread some awareness on the essential role a needle exchange program plays in a community like Portland.
Outside In was one of the first organizations in the country to open a needle exchange—a program that offers sterile syringes to people with a substance addiction who might not have access to clean needles. Clients are encouraged to bring in their used syringes to safely dispose of.
This 30-year-old program is categorized by public health experts as a form of "harm reduction," since using a sterile needle reduces the overall harm of drug use by protecting a person from contracting AIDS, Hepatitis B, or other blood borne diseases found in used syringes.
Aside from treating people like human beings who don't deserve to die because of their illness, syringe exchange programs also offer rehab and recovery information to frequent clients. Ideally, a syringe exchange program is the first step in someone's path to recovery.
Critics often argue that needle exchange programs incentivize drug use and crime. However, study after study have disproved these scary myths. Instead, studies show that needle exchange programs are associated with a drop in HIV infection and increased participation in drug treatment programs.
Despite this data—and the support of national medical organizations—it took the federal government until 2016 to allow needle exchange programs to apply for federal funds.
Farley isn't the only Portlander to stoke fear around needle exchange programs. Last year, members of Portland's Montavilla Initiative—a fringe neighborhood group—staked out a neighborhood syringe exchange program operated by Multnomah County and ridiculed its clientele on the group's (now-shuttered) website.
Haven Wheelock, who runs Outside In's needle exchange program, confirmed Farley's syringe cap dump in an email to the Mercury.
"Our staff quickly cleaned them up and properly disposed of the used injection equipment," she wrote. "We encourage the community to participate in safer disposal of syringes by bringing them to a syringe exchange in a secure container."
Want to safely (and legally) clean up syringes? Check out Multnomah County's detailed website on syringe drop-off locations and organized clean ups. Want to learn more about local syringe exchange programs? Multnomah County and Outside In have you covered
Sponsored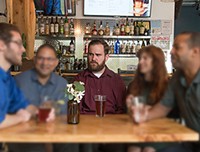 Adults aged 18-35 with good hearing will be paid for their time. Located at the Portland VA Medical Center