Tenants-rights advocates clashed with landlords and property owners over potential new requirements for the rental screening process at a Portland City Council meeting Wednesday evening.
Sponsored
Sketch comedy troupes from all over N. America descend on The Siren Theater for 3 glorious nights.
One of two proposed city ordinances would require landlords to follow specific application screening rules—a process called "low-barrier" screening—to ensure their tenant selection process isn't discriminatory. The other would place a defined limit on how much a landlord could charge as a security deposit: no more than one month's rent. City Council didn't vote on the two ordinances, which are part of Commissioner Chloe Eudaly's Fair Access In Renting (FAIR) plan, but they did hear testimony from about 50 people on both the ordinances and several proposed amendments.
It wasn't the first rodeo for these ordinances. In April, City Council held two similarly heated hearings about them; as a result, Eudaly introduced amended versions that cleared up concerns about whether they aligned with federal and state housing policies.
Wednesday's three-hour session pitted tenants speaking in favor of the rule changes—many of whom, as people with disabilities, people of color, and/or members of the LGBTQ community, spoke about their struggles to find housing—against landlords and people who work in property management, most of whom were critical of the ordinances.
The new rental screening requirements would give priority to people with mobile disabilities when applying to live in accessible units. They would also dictate that landlords could only require a prospective renter earn double the rent (or 2.5 times for affordable housing), rather than the current industry standard of requiring income to be three times more than rent. Both of those provisions would help level the playing field for people like Nico Serra, who uses a wheelchair and relies on social security checks for income.
Serra, a board member of the disability rights organization Real Choice Initiative and a self-described "mixed-race, queer, and transgender person with disabilities" was one of many to speak in favor of the ordinances.
"Try to imagine being at the intersection of poverty, race, gender, and disability," Serra told City Council. "People like me have very few options when it comes to affordable and accessible units. In fact, many of us end up in institutions, on the streets or in prison."
---
"I'm concerned that there's this campaign that's been feeding misinformation to the public." — Commissioner Jo Ann Hardesty
---
Landlords and property managers, meanwhile, are concerned the lowered income requirements and first-come-first-served policy would set renters up to fail and force landlords to evict more tenants. Several representatives from large property management firms alluded to the possibility that their companies might need to leave the Portland market should these ordinances pass; those in favor of the ordinances cast doubt on those threats, considering Portland is still a lucrative rental market.
Just hours before Wednesday's meeting began, the Oregonian reported that landlord and property management lobbying group Multifamily NW was behind a slate of anonymous robocalls received by many Portlanders. The robocalls warned that the new ordinances would ultimately be bad for tenants, and urged people to call city commissioners and ask them to delay a vote.
That message was mirrored in an email Multifamily NW sent to its members on Tuesday evening. That email, obtained by the Mercury, argued the proposed ordinances would create an "administrative burden" for landlords—and that one provision in the rental screening ordinance that restricts criminal background checks, and prohibits landlords from considering misdemeanors older than three years and felonies older than seven years, poses a danger to tenants.
"It removes safety provisions for existing renters, like screening for serious criminal backgrounds," the email reads. "Many will not want to use the threshold criteria because it doesn't adequately protect the other residents. … [It] prevents denial for anyone with a misdemeanor for over 3 years from sentencing. All misdemeanors are not created equal. This would include several categories of sex offenses, property crimes like arson, theft, and burglary."
Property managers also argued Wednesday night that the ordinances weren't necessary because the majority of Portland landlords were not discriminatory in their screening practices. That prompted Commissioner Jo Ann Hardesty to issue a strong rebuke of that notion.
"I'm concerned that there's this campaign that's been feeding misinformation to the public," Hardesty said. "I don't need anybody else tonight to tell me that most landlords don't discriminate, because if that were true, we would not be having this conversation tonight. So you can just take that out of your lexicon for this evening."
Mayor Ted Wheeler and Commissioners Edulay and Nick Fish introduced several new amendments at the start of Wednesday's meeting. Like the tweaks Eudaly made to her original ordinances, these new amendments are mostly intended to bring the ordinances into compliance with state and federal law, or make small logistical changes. However, one amendment introduced by Wheeler takes specific language detailing how landlords should prioritize applicants with disabilities and replaces it with considerably vaguer language that simply calls for people with disabilities to have "preferential access" to accessible dwelling units.
Ethan Harrison, an organizer with Portland Tenants United, said Wheeler's amendment "takes the teeth out of the policy, and reduces it to landlord preference."
Another amendment Wheeler introduced would get rid of an option for landlords to opt out of the low-barrier screening process, provided they are willing and able to show how their alternative screening process is not discriminatory. Tenants-rights advocates had mixed opinions about that amendment, with some in favor of requiring all landlords to comply, and others arguing the option of an alternative screening process could be helpful for well-meaning, small-time landlords.
Emotion ran high at Wednesday's meeting, with attendees often cheering or audibly disagreeing with public testimony. At about 9:30 pm, when testimony wrapped up, City Council decided they would discuss and vote on the two ordinances at their June 12 meeting.
The written public comment period for these two ordinances is still open.
Sponsored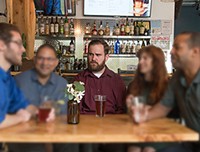 Adults aged 18-35 with good hearing will be paid for their time. Located at the Portland VA Medical Center