Three morsels of local record-store news, bringing you up-to-date on Portland's many excellent purveyors of used and new vinyl.
• Beacon Sound will be moving late in the summer. The North Mississippi store is teaming up with the Nationale gallery to open a joint storefront at 15 SE 22nd (at the intersection of 22nd and East Burnside). Nationale, which was once located on Burnside, has spent recent years on Southeast Division, but will be returning to Burnside; the Beacon Sound/Nationale opening date is currently slated for September 1. In an email newsletter, Beacon Sound's Andrew Neerman says, "Look for a new loyalty program, a dedicated studio available for workshops, and a cassette section curated by Randall Taylor aka Amulets, among other things." Beacon Sound, 3636 N Mississippi (for now), IG: @beacon_sound
• Little Axe is opening a second location in Springfield, Oregon, near Eugene. Warren Hill will be operating the Springfield outpost, while he and Jed Bindeman continue operations in Portland. The new Springfield store opens at noon tomorrow, Saturday, June 1, and will at first keep hours Fridays through Sundays. There's every reason to expect both branches of Little Axe will continue to offer their remarkable selection of (mostly used) vinyl, with lots of rare and unusual titles, at some of the best prices to be found. Little Axe Records, 4142 NE Sandy (Portland) & 325 Main St. (Springfield), IG: @littleaxerecords
• Last week, Exiled Records changed ownership. The Southeast Hawthorne store, previously run by Scott Simmons, was taken over by Brian Snawder on May 20. It sounds like little will change with the philosophy of the shop, which has historically been one of Portland's best, and should continue to stock a broad assortment of rock, experimental music, and other genres. Exiled Records, 4628 SE Hawthorne, IG: @exiledrecords
Sponsored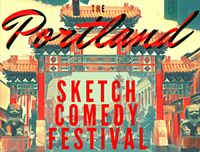 Sketch comedy troupes from all over N. America descend on The Siren Theater for 3 glorious nights.