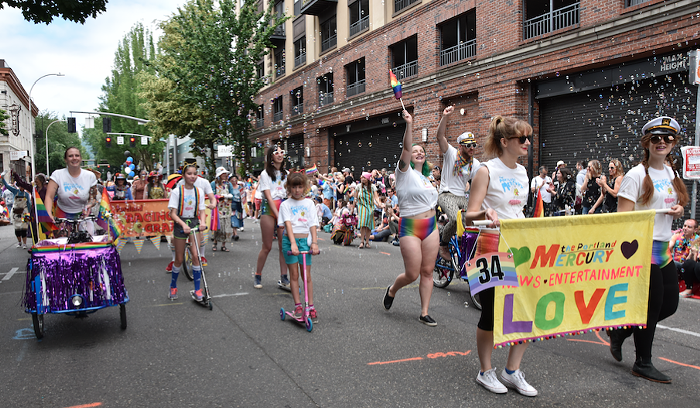 We're not even a week into June, and the world is awash in rainbows. Rainbow
pint glasses
, rainbow
shaving kits
, rainbow
police logos
—they say most humans can't go a day without seeing a Coca-Cola logo, and I'd posit the same is true for rainbow-branded merchandise during Pride month.
Sponsored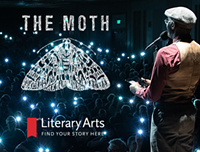 Literary Arts presents The Moth: Portland Mainstage. True Stories, told live. Held at Arlene Schnitzer Concert Hall.
These often cringe-worthy, sometimes dubiously charitable Pride marketing ploys are a fairly new phenomenon for the queer community, and you might be tempted to label this a champagne problem. But in a new blog post, the Portland Democratic Socialists of America's (DSA) queer caucus makes the case for why corporatizing Pride is a real issue—and takes particular aim at Pride Northwest, the organization that puts on the annual Portland Pride parade and festival.
The DSA post identifies two problems that are of concern to many in the queer community: Pride Northwest's corporate sponsors have a sometimes questionable track record when it comes to LGBTQ+ equality, and the organization's choice to welcome the Portland Police Bureau (PPBB) officers (both on-duty officers working the event and officers marching in the parade representing the PPB) each year.
From the post (emphasis comes from the DSA):
"Pride began because Queer people organized and fought back against the institutions that were vilifying them: the economic system that denied them jobs, the housing system that denied them tenancy, and the policing system that is prejudiced against anyone non-normative. The first Pride was a protest led by Trans Women of Color against the police. The goal of the protest was not mere integration into straight society, but radically rethinking how society constructs norms and forces us to conform. Pride celebrations today, which are promoted by multi-billion dollar corporations and which use Queer bodies as a new, profitable marketing tactic, look very different from the original Pride protests. We used to revolt against the norms; now we celebrate conforming to them."
The blog goes on to identify a few major Pride Northwest corporate sponsors who fail to meet the ethical standards put forth in the organization's own ethical guidelines. While Nike and Intel are called out, the most space is devoted to Amazon, which the DSA notes fails to "protect queer people from on-the-job harassment," and is known for engaging in anti-union tactics.
"This opposition to community organizing and collective action is the very opposite of what Pride stands for," the blog reads. "Amazon will not change their behavior on their own: they would much rather purchase a float in the Portland Pride Parade and call it good."
Perhaps the harshest criticism comes when addressing Pride Northwest's choice to involve PPB in its annual festivities. The DSA says PPB is "notorious for targeting the most marginalized in our community," and calls its involvement with Pride "a decision made by people with no understanding of the community they pretend to represent."
But rather than just presenting a laundry lists of perceived mistakes, DSA also extends an olive branch to Pride Northwest. Before highlighting the corporate sponsors it sees as problematic, DSA writes:
"We do not wish only to assign blame," it reads. "We want to acknowledge how far we've come as a community. We believe you have good intentions toward our community, and we want to be constructive."

You can read the whole post here. And if you found yourself nodding along with the DSA's points, you might want to consider attending Radical Pride next weekend.