Facing a
concerning decline in officer recruitment and retention
rates, the Portland Police Bureau (PPB) has chosen to roll back some of its new hire requirements.
Sponsored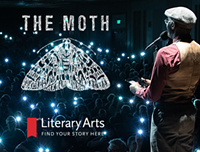 Literary Arts presents The Moth: Portland Mainstage. True Stories, told live. Held at Arlene Schnitzer Concert Hall.
Starting July 1, PPB will no longer demand incoming officers have a degree from a two-year college or university. Instead, applicants will only need a high school diploma or GED to become a certified officer—the minimum state standard for law enforcement officials.
PPB currently requires all applicants take a test administrated by the National Testing Network (NTN). According to NTN's website, the test "focuses on using good judgment in enforcement, public relations and teamwork." Starting July 1, applicants with a four-year college degree will not have to take this test.
Along with these education level tweaks, PPB will let all new and current officers have tattoos that can be seen above their collar (as long as they aren't "sexually explicit, racially and/or sexually biased or could be viewed as discriminatory"). Plus! Officers can now grow beards.
While PPB's new officer requirements have lowered, their entry-level salaries remain the same. In the past five years, a new PPB officer's annual salary has risen from $47,000 to $64,400.
PPB's troubles with attracting—and retaining—new officers bubbled to the surface in March, during city conversations around the PPB budget. At the time, PPB had a total of 75 open officer positions. That number has since risen to 128, according to a Wednesday press release sent by PPB.
Both PPB Chief Danielle Outlaw and Daryl Turner, president of the Portland Police Association, blamed this downturn on the national perception of Portland law enforcement.
"Working here in Portland is unique, and it's been recognized all over the country," Outlaw said at a council meeting. "We deal with demonstrations, protests, crowd management things... We catch a lot of headlines. And, quite frankly, folks would rather go to other agencies and make similar or more money for less scrutiny."
Turner, as always, put it more bluntly.
"The reason the Police Bureau is experiencing catastrophic staffing shortages, drastically declining recruiting success, and the inability to retain officers is due to one core issue: The intense anti-police sentiment in our city that City Council seems to share," wrote Turner in April.
Outlaw explained her decision to change hiring requirements in an email to PPB staff, which was obtained by the Portland Tribune.
"There will always be recruitment challenges," Outlaw wrote, "but I am confident by broadening our candidate options, it will expose the PPB in ways that will make us stronger."
She also said that PPB has hired a marketing firm to improve the public's perception of the police department.
"In an effort to tell our own story, put forth a message of service and inclusivity, and draw interest from potential candidates, we are glad to have the help on this one," she wrote. "Basically, the PPB is calling for cover."
In Wednesday's press release send to media, Outlaw said the department decided to change the hiring standards in an "attempt to identify potential barriers to entry."
"We will revisit the effectiveness of these changes after two years," she added, "to determine if our hiring numbers have increased."