The temporary bike lanes that occupy an entire Naito Parkway car lane between the Hawthorne and Steel bridges are about to become a little less fleeting.
Sponsored
Sketch comedy troupes from all over N. America descend on The Siren Theater for 3 glorious nights.
According to the Portland Bureau of Transportation (PBOT), construction to make this two-way set of bike lanes (called a "cycletrack") permanent will begin as soon as next year. Last night, PBOT unveiled some early renderings of what the project, called "Better Naito Forever" could look like. SPOILERS: IT LOOKS COOL.
The biggest improvement? Raised cement medians between the cycletrack and car traffic. The plastic posts that currently divide these lanes have proven to be purely symbolic—I can't tell you how many times I've seen them uprooted and strewn on the street. Maybe these medians will also help reduce the number of vehicles that make a left turn onto Naito and accidentally end up in the bike lane.
The new design includes new traffic lights for bikes and pedestrians, and a protected space where pedestrians can wait after crossing the bike lanes and before crossing car traffic—a move that seems geared toward improving pedestrian safety (see! this plan isn't just for bicyclists!).
In an email to the Mercury, PBOT spokesperson Hannah Schafer wrote that the project design is only 30 percent finalized, "so there will still be additional refinements to the plans in the coming months."
PBOT is now in its fifth year of offering the temporary Better Naito route to commuters, tourists, and other downtown pedal-ers during Portland's drier months.
The cycletrack has been routinely vilified by the Portland Business Alliance (PBA) for hampering downtown car traffic—a transportation mode the PBA holds dear.
Portland City Council approved Better Naito Forever in a November 2018 vote that green-lit a number of new transportation plans for inner Portland under PBOT's Central City in Motion program. In a letter sent to commissioners prior to the vote, PBA reiterated their opposition to Better Natio, suggesting the city create another bike path in Waterfront Park—thus saving Natio from the scourge of bike traffic.
And yet, Schafer says, the city doesn't anticipate "any major obstacles to moving forward with construction." Construction is expected to begin between 2020 and 2021.
Sponsored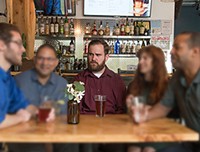 Adults aged 18-35 with good hearing will be paid for their time. Located at the Portland VA Medical Center