Last night was the much anticipated conclusion of Helium's Comedy Club's annual
Portland's Funniest Person
contest. (Full disclosure: This year I was one of the judges.) It's a fun time and the show is a veritable smorgasbord of hot, upcoming local comedy talent. The 2019 line-up was robust: Bryan Bixby, Christian Burke, Adam Pasi, Shaine Brendan, Lance Edward, Diana Potter, Ben Harkins, Seth Johnson, Chris Johnson, Amanda Arnold, Corina Lucas, and Dylan Carlino in total. But, at the end of the night, there could be only one!
Sponsored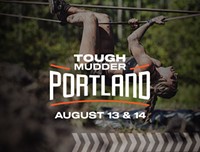 Lock in your summer adventure, Portland. Join us for world famous obstacles over a 5K or 10K distance.
That one was ADAM PASI who performed a terrific set—about Girl Scout Cookies and his own brand of super scary feminism—early in the evening. Doused in champagne (by fellow contestant Arnold) it was obvious Pasi is perfectly suited for comedy rulership. Congratulations, Adam!
Last year's second runner-up CORINA LUCAS also hit us with a solid program. Her Silence of the Lambs jokes hit pretty hard and earned her the first runner-up position. This year's second runner-up was SHAIN BRENDAN who busted out a slam poem (respect!) and sang during his performance.
Some other favs of the evening were: Dianna Potter whose humor touches a lot on her experiences while incarcerated. Her delivery of the understated sentences, "Poor choices. I ended up back in jail," caught me completely off guard. Loved it. Lance Edward delivered a beautiful circular arc about smoking dabs. Ben Harkins's routine about Dollar Tree (you should consider sponsorship, my dude) was super original and a nice diversion from—let's be real people—a night that was mostly stories about significant others.
Portland's Funniest Person 2018 Alex Falcone performed his host duties tidily and moved everything along like clockwork. Falcone warmed up the audience with a variation on the set he won with last year and experienced a little stiffness from the crowd—who were perhaps already familiar with his incredulous "the vagina is further down than you're expecting!" Falcone is pretty adept at reading an audience so he recovered and segued into some material about his hometown of Reno, Nevada that hit.
But back to Portland's Funniest Person Adam Pasi. Pasi is a half-Samoan Gresham-native who used to run a comedy show at Chinese Village out on Southeast 82nd (RIP!). He can frequently be seen on different bills around town, like the upcoming Revolution Comedy on August 15th at Kickstand, and an as-yet-unannounced Transplants show at Helium on August 29th. Pasi also reports that he, Nariko Ott, and Amanda Arnold are starting a show at Kickstand in September called Savages! Keep an eye on the Mercury's events calendar 😉 for more info.
Want to see the killer set that earned Pasi that coveted sparkly tiara? Here it is!