A woman who was hit with one of the Portland Police Bureau's (PPB) flash-bang grenades during an August 4, 2018 rally is suing the City of Portland for her physical and psychological damages.
Sponsored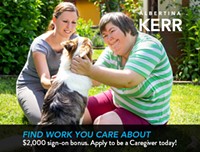 Become an Albertina Kerr Caregiver & help people experiencing intellectual and developmental disabilities.
Michelle Fawcett, 53, says she was peacefully counter-demonstrating a protest organized by Patriot Prayer—a local alt-right group whose rallies attract white supremacists—on August 4 when an "ear-splitting explosion" knocked her off her feet. "Suddenly, I was overcome with a searing pain in my chest and arm and an intense burning sensation," Fawcett explained at a Monday press conference at the ACLU of Oregon office.
"I knew right away something terrible had happened to me," she continued. Fawcett said a volunteer medic dragged her into safety as officers continued to fire grenades into the crowd. "It felt like a war zone," she said. "I wasn't sure if I was going to survive."
Fawcett suffered third-degree chemical burns on her arm and chest, impact wounds, and major soft-tissue damage. The grenade left a permanent imprint on her arm. She continues to have nightmares about the attack, is overly startled by unexpected noises, and no longer feels comfortable in crowds or near police offices.
In her lawsuit, filed Monday morning by Tonkon Torp lawyer Jeffrey Bradford in collaboration with the ACLU, Fawcett requests the city pay $250,000 for her injuries. The suit explains that flash-bang grenades, originally developed for military use, are meant to be fired overhead to disorient crowds of people—not shot directly into a crowd.
"PPB officers demonstrated an alarming lack of concern for the safety of Portland citizens," the lawsuit reads. "PPB officers' conduct also revealed either a lack of effective training in the use of these munitions or reckless dismissal of that training."
Fawcett said she joined the August 4 counter-protest after learning about the connection between Patriot Prayer and Jeremy Christian—the avowed white supremacist who killed two men in 2017 after they tried to stop him from spewing hate speech at two women of color riding the MAX. Christian had attended a march organized by Patriot Prayer just a month before the MAX slayings.
"When I heard Patriot Prayer was coming back to Portland, I knew I had to be part of the peaceful protest," Fawcett said. "I felt it was my duty to stand up against violence, bigotry, and hatred that day."
Fawcett was inspired by the hundreds of peaceful left-wing protesters who protested that afternoon. She was shocked by the PPB's violent response to their rally.
"The police are supposed to protect and serve, but instead they shot me and other peaceful protesters with military-grade weapons," she said. "Then [PPB Chief] Outlaw went on the radio saying people like me came with bad intentions to this event, so we got our butts kicked by the police and now we're just whining and complaining about it."
"The thought of this fills me with a deep sense of despair," Fawcett continued. "I'm not sure where to seek justice."
Fawcett was one of several protesters injured by PPB munitions on August 4.
One man who only identified himself in an Oregonian interview by his first name, Anthony, suffered a traumatic brain injury when he was hit in the head with a flash-bang grenade. KATU journalist Ric Peavyhouse was injured by a rubber bullet in the leg. Others reported less-severe injuries, like bruises or scrapes, from being pushed or dragged by police officers attempting to break up the crowds. A protester named Tracy Molina has also signaled her intent to sue PPB after a number of officers piled on top of her after she refused to drop a protest sign.
Yet, in the 13 reports filed by PPB officers who shot munitions at protesters on August 4, officers claim none of their projectiles injured members of the public. In their reports, officers claimed protesters had thrown bricks, glass bottles, rocks, chunks of concrete, and Molotov cocktails at officers. PPB has not offered evidence to confirm these allegations.
"We acknowledge that tensions are high in the city," said Jann Carson, the ACLU of Oregon's interim director, speaking at the morning press conference. She said that the planned August 17 Proud Boys rally in downtown Portland "will be another test" for the PPB.
While Fawcett won't be attending the planned counter-protest for that rally, she called for others to show up.
"The more people come out, the more we can express our message of peace," she said. "There is a documented rise in hate crimes [in the US]. We have to do all that we can to show that we stand against this. And if the city doesn't make it a safe place to do that, we're really in trouble."