The Portland Police Bureau (PPB) arrested 13 protesters during today's
dueling demonstrations
in downtown Portland.
Sponsored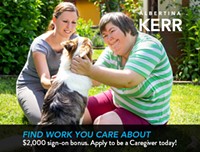 Become an Albertina Kerr Caregiver & help people experiencing intellectual and developmental disabilities.
"We believe these arrests allow us to hold those committing violent acts accountable, while at the same time deterring others from acting," said Police Chief Danielle Outlaw at a 6 pm press conference.
Outlaw didn't have complete details of the arrests, but said the charges included disorderly conduct, interfering with police, resisting arrest, and unlawful use of a weapon. PPB officers confiscated several weapons from protesters, like bear spray, wooden and metal poles, knives, shields, and a stun gun.
Outlaw estimated that a total of 1,200 people showed up to today's protests.
There were six instances where PPB officers used force against protesters today. Only once did an officer use a "less-lethal" weapon—a pepperball gun—against a protester. The other five incidents were what Outlaw called "takedowns" or "control against resistance." PPB is aware of only six minor injuries that took place during the course of the protest.
PPB was criticized for allowing the far-right Proud Boys to leave Tom McCall Waterfront Park and cross the Hawthorne Bridge—which, at the time, was closed to vehicle and pedestrian traffic. Here's how Outlaw explained that decision this evening: "Shortly before noon, a group of demonstrators communicated to our liaisons that they wanted to leave the downtown area. At that point, we determined it would be in the interest of everyone's safety to allow them to remove themselves from the area. We allowed them to cross the Hawthorne Bridge. We did not show preferential treatment, but rather facilitated a de-escalation of potential conflict."
Outlaw was joined by Mayor Ted Wheeler, who condemned the Proud Boys' pledge to continue visiting Portland until the local anti-fascist groups are silenced. He specifically called out Joe Biggs, the Florida-based Proud Boy who organized today's protest.
"Listen, we here in Portland, Oregon support the rights for people to assemble," Wheeler said. "But when we have people like Joe Biggs say that they're going to come here every single month until we do whatever it is they think we should be doing... well, I want to give this some context."
Wheeler went on to explain how Biggs' group is costing the city millions of dollars and adding to the environment of fear in the community.
"So, I want to be very clear," he said. "We do not want him here, in my city, period."
Wheeler noted how Portland's progressive politics and free speech policies have made the city a magnet for far-right protesters.
"We are now confronting the reality that in the United States we have a rising white nationalist movement based on white supremacy in this country," said Wheeler. "It is impacting the entire nation. But we're certainly seeing it play out in the streets of Portland."