Klamath Falls resident Maria Soto was planning a trip to Peru with her husband last year—so, like any other US citizen who has never ventured outside of North America before, Soto applied for a passport. She used her California-issued birth certificate as proof of citizenship.
Sponsored
Sketch comedy troupes from all over N. America descend on The Siren Theater for 3 glorious nights.
The US State Department, however, denied her application, citing "insufficient evidence of citizenship" in a letter sent to Soto. She isn't alone; under Donald Trump's presidency, a growing number of people with proof of US citizenship, many of them Latinos, are also being denied passports. But her case is the first of its kind to be taken up by the ACLU of Oregon, which filed a federal lawsuit against the State Department on Soto's behalf on Tuesday.
"[Soto] was really looking forward to this trip," said Leland Baxter-Neal, an ACLU attorney who is representing her. "She'd never had the opportunity to travel beyond the United States and Mexico. And she's really now trapped here until she gets this passport."
Baxter-Neal said Soto's case is "very straightforward." US law allows any citizen who is denied a benefit of citizenship—in this case, a passport—to sue in federal court and ask for a formal declaration of their citizenship.
The ACLU of Colorado filed a similar lawsuit, on behalf of a Colorado man who was born in Texas and grew up in Mexico, earlier this month.
"It's a shame that we have to go through this just so she can get her passport," Baxter-Neal said. "It would really be so easy for the State Department to issue her passport."
Shortly after Soto was born in Los Angeles in 1971, she moved back to Mexico, her parents' country of origin, where she was raised by her grandparents. She attended school until she reached sixth grade, at which point she was told by her principal that she would not receive any diplomas in Mexico because she wasn't a Mexican citizen. She moved from Mexico to Klamath Falls in 1989 at age 18, and married her husband soon after.
This isn't the first time she's been denied a US passport. In 1993, Soto applied for a passport and received a letter from the State Department requesting additional documents and information. Soto failed to respond to that request, so the State Department denied her application.
Though her first application for a passport was denied, Soto never doubted her US citizenship. She presented her birth certificate many times when crossing the US-Mexico border as a child, and used it as proof of citizenship when her husband, who is not a US citizen, petitioned for and was granted residency in 1995.
When she applied for a passport the second time—in February 2018—Soto attached copies of her birth certificate, social security card, and driver's license. In response, the State Department sent her a form called a "Supplemental Questionnaire to Determine Identity for a U.S. Passport," which asked for more documents and information.
"In response, Ms. Soto sent the completed form," reads the complaint filed by the ACLU, "along with the original birth certificate issued by Los Angeles County Hospital, the original certified copy of her birth certificate, a copy of her marriage certificate, a letter confirming her education in Mexico, medical records related to her pregnancy, and a letter from her church."
Soto's application was still denied.
"She has gone above and beyond," Baxter-Neal said, "and provided ample evidence of her citizenship."
No court date has been scheduled yet for Soto's case.
Last summer, the Washington Post reported that under the Trump administration, an increasing number of US citizens were being denied passports, particularly among those living near the US-Mexico border. The Trump administration later challenged that claim, but failed to provide the Post with comprehensive data proving otherwise.
The Trump administration is also "denaturalizing" more people—or stripping previously naturalized citizens of their citizenship status—at a higher rate than previous administrations. The Los Angeles Times reported last year that in Southern California alone, United States Citizenship and Immigration Services agents were reviewing more than 2,500 possible denaturalization cases.
News of this administration trying to deny people's citizenship comes as no surprise, Baxter-Neal said, considering Trump's long and varied history of using racist rhetoric.
"You've got, across the government, this disparate treatment of people based on their heritages," he said. "And specifically, individuals who are either immigrants or have immigrant heritage. That's the concern that gets raised in a case like this one."
"I feel confident," Baxter added, "that [getting a passport] is a process that white Americans can do easily and not give a second thought."
Sponsored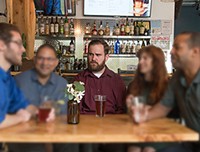 Adults aged 18-35 with good hearing will be paid for their time. Located at the Portland VA Medical Center