To steal a line from the current-best show on TV, HBO's
Succession
: Here at the
Mercury
, we work hard, but we play soft. (Why would you play hard?) And all that soft play comes in the form of winding down in front of the tube. So what are we watching these days? Here's a quick rundown of our current favorite things on TV and the internet (and one movie playing in theaters).
Sponsored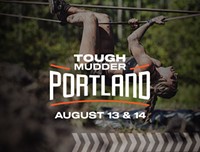 Lock in your summer adventure, Portland. Join us for world famous obstacles over a 5K or 10K distance.
---
I'm not sure what was wrong with me when I watched the first episode of This Way Up, a six-episode Channel 4 Britcom that we Yanks can watch in full on Hulu. Something about it didn't quite click, even though it was fluid, sharp, and funny in the vein of Fleabag and Catastrophe, two of the best TV shows ever made; it even co-stars Catastrophe's Sharon Horgan as the sister of the main character, Aine, a troubled English tutor played by Irish comedian Aisling Bea. And I'm not sure why I decided to go back to watch the second episode, having already written the show off—but thank god I did, because it turns out the problems were entirely with me, not with This Way Up. What a breathtaking, fleet-of-foot, hilarious, sad, goddamn great thing this is, and Bea—who also wrote the show—is a massive talent whose performance as the motormouthed Aine had me cascading with laughter. The show's not perfect, but it coasts by on pure charm, particularly in the underwritten relationship between Aine and a tutoring client's father, played by Tobias Menzies (AKA dorky Edmure Tully in Game of Thrones, but who's, uh, kind of dreamy here?). Anyway, you're right to be skeptical of any show that gets compared to the immortal Fleabag, but This Way Up is absolutely worthy. Unlike me, you probably won't need a second chance to fall in love with it. (Hulu) NED LANNAMANN
---
My wife and I have decided the world doesn't have enough stress and tension, and so we've been ping-ponging between
Season 2 of Mindhunter
(which is better than Season 1 both as a legit crime procedural and ALSO as an office drama) and Season 2 of
Better Call Saul
(which I don't remember why we stopped watching in the first place but we were dumb because Kim Wexler is literally the best). But our progress is slow-going because the show we started watching as a light-hearted, fluffy dessert after those feasts of drama has taken over our interest entirely:
Hyperdrive
. It's
American Gladiators
but for semi-pro drift racers.
American Ninja Warrior
for car dorks. Charlize Theron and one of the guys from the
Battlebots
revival teamed up to build like 16 different racing tracks in a New York factory location, and invited a whole bunch of semi-certifiable motorists to drift their car through some fucking BATSHIT obstacles every night for a month straight. What makes it even more bizarre is the production, which teeter-totters between
Real World
/
Road Rules
challenge and X-Games atmospheres constantly. If Fast & Furious movies were an actual SPORT, it'd look like this reality show. (
Netflix
) BOBBY ROBERTS
---
I've been watching
The Boondocks
on Hulu… repeatedly. Because, with the exception of that weird Kardashian episode, the series really holds up! Aaron McGruder's satirical comedy follows the everyday lives of the Freemans (Huey, Riley, and Grandad) living in a suburban neighborhood. It should've never left our TV screens from 2014 until now, and that's presumably why the show is making a comeback with its original showrunner. The anime-style series provides hilarious analysis of American Black culture, and smartly holds a mirror to society as we navigate the crazy world of R. Kelly trials, fried-chicken promotions, racism, free-loading ho's, rap beefs, online dating, bullies, and so much more. A LOT has happened in the last five years, and (assuming Regina King is hired to reprise her roles as the voices of both Huey and Riley) I can't wait to see which insane pop culture moments McGruder will tackle. (
Hulu
) JENNI MOORE
---
I firmly believe that when an advanced species discovers human remains thousands of years from now, and sorts through all of our cultural remains to ascertain what we were like, they will consider reality TV shows to be our richest texts, both from an anthropological and artistic perspective. It is in that spirit that I recently rewatched
Gallery Girls
, a very short-lived Bravo reality series about a group of astonishingly clueless young women working in the NYC arts scene in 2012. This show is high social and genre parody, the Jane Austen of its time, and I demand a reboot. The true reality heads can follow along with
Sexy Unique Podcast
(a podcast that is every bit as good as its name suggests), which is doing weekly
Gallery Girl
recap episodes now. (
Available for purchase at iTunes, Amazon, YouTube, Google Play, and others
) BLAIR STENVICK
---
Every Sunday, I've been doing a one-two punch of the latest episode of
The Righteous Gemstones
(which I like a lot more than
Ned did
), followed by a chaser of an episode or two of
Succession
(I'm starting from Season 1). This is an excellent rich-people-are-the-first-against-the-wall double feature, and I recommend it for everyone who, like me, only feels joy when meager droplets of it gurgle up through the dried-out cracks of their long-rotted black heart. (
HBO
) ERIK HENRIKSEN
---
Seeing any film or TV show with zero context is nearly impossible in our era of information overload. And when it does happen—when you stumble upon a new TV show or take a chance on a movie that you know next to nothing about—it makes the delight of finding something good that much… gooder? That was the case when I and my Regal Unlimited card took a shot at
Ne Zha
, a batshit crazy animated epic from China that I have since learned is one of the highest-grossing films of 2019. The story, based on a Chinese myth, is a knotty one concerning the titular child who was meant to be a heroic figure but through a magical mix-up concerning a Spirit Pearl, winds up being the devil incarnate and butting heads with the good-natured people around him. What happens from there is a fast-paced whirl of fight sequences, evil dragons, fart jokes, and tender scenes between Nezha and his harried parents. It's a wild and eye-popping ride that begs to be seen on the biggest screen possible. (
Regal Lloyd Center 10, showtimes here
) ROBERT HAM