Thousands of people—many of them high school and middle school students—took to the Portland streets Friday to call for political action on climate change.
Part of a worldwide "climate strike,", Portland's day of action started with a youth-led rally across from City Hall Friday morning. The thousands of people in attendance then marched over the Hawthorne Bridge, ending at a Climate Strike Festival outside of OMSI.
Locally,
the strike was organized by a coalition of groups
with one united cause: reducing carbon emissions and curbing the effects of climate change. Students from Portland Public Schools received excused absences for attending the strike, and many of them told the
Mercury
that they felt like they needed to be there.
"It's pretty important to want to live more than a couple more years, and preserve the only planet that we really have stable life on," said Keegan Martin, a student at Madison High School, as he carried a sign that read "NO FOSSIL FUEL MONEY" over the Hawthorne Bridge. "Greta Thunberg has been quite an inspiration to quite a lot of kids."
Thunberg is a 16-year-old Swedish environmental activist who has become the face of the youth-led climate movement, and is the inspiration for Friday's global climate strikes.
That sign says "Greta for President," as in 16-year-old Swedish climate activist Greta Thunberg. pic.twitter.com/olXMKT0Fav
— Blair Stenvick (@BlairStenvick) September 20, 2019
The youth who organized Friday's march have some specific demands for Portland city government, such as establishing a "climate test" for all new policies, and working to shut down Zenith Energy's oil terminal.
"All the people who are making legislation about climate change aren't going to be alive to be affected by climate change," said Ciella Peterbaugh, a senior at Westview High School. "So they're just kind of, like, chill about it. And I feel like the clock is really ticking, and the legislators can't hear it, so let's turn up the volume."
"There are a lot of small things that can be done—biking more, not eating meat—and those are important to me," added Catherine O'Connor, another senior at Westview. "But I think when it comes down to it, you also have to take part in bigger actions and movements. Being here is a way to show legislators that we care."
According to the Portland Police Bureau, the event was largely peaceful, though officers did arrest three people for minor offenses. One man was arrested for vandalizing the Hawthorne Bridge, and two 17-year-olds were arrested for disorderly conduct and interfering with an officer.
The rally featured several student speakers who were Native American or Pacific Islander. The students spoke about how their communities—often referred to as
frontline communities
in the environmental movement—are among the most impacted by climate change.
The speakers are kicking off. Right now a senior from Lincoln High is leading the recognition of the land. She ties the genocide of Native people to the current climate emergency, saying they are both caused by colonialism. pic.twitter.com/hs1SMYEFkK
— Blair Stenvick (@BlairStenvick) September 20, 2019
"Every time we choose to stay silent and believe our voice doesn't matter, we give permission for another person to do the same, over and over, until we become a nation of 'I can't do anything'-ers," said one student speaker. "Then we look at our nation and wonder why it's so corrupt, why the people in power are there, and why there is so much stagnance. It is because of our denial of our own power, and our ability to make a difference. It is because of our refusal to stand up and rise."
"Just feeling bad is no longer an option, because it is not effective," she added. "But feeling bad and using that momentum to rise up and make a change is."
Sponsored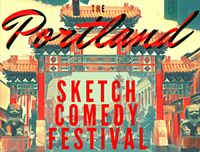 Sketch comedy troupes from all over N. America descend on The Siren Theater for 3 glorious nights.