Next week, Portlanders will get their first look at
Stage 722
, a new performance space situated inside the soon-to-be opened Morrison Market. The 550-capacity room kicks off its existence on Friday, October 25 with a performance by reggae artist Collie Buddz, followed by a great double-bill featuring African guitarists Vieux Farka Touré and Bombino on Saturday, October 26. Both shows are co-sponsored by Soul'd Out Productions.
Sponsored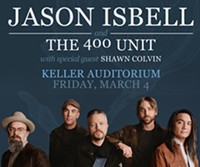 Jason Isbell has established himself as one of the most respected songwriters of his generation. Don't miss Jason Isbell and the 400 Unit, March 4th at Keller Auditorium!
Morrison Market was dreamt up by the MMIO Corporation, a consortium of local business developers who, according to general manager and talent buyer Eric Gerber, joined forces solely for the purpose of creating this business. In addition to the Stage 722 venue, the 8,000-square-foot space—located next door to Holocene—will host seven "food pods" for grab-and-go-type meals, a full liquor bar, and a beer-only bar.
"I can't recall exactly what was in the space before," Gerber says, "but there was literally nothing in it. No piping. There were two outlets. Minimal power. No infrastructure. So we've been building it from dust to what it is now."
And what it is now, says Gerber, is a "construction site." But with the two concerts on the calendar, the crew behind Morrison Market and Stage 722 are rapidly working to make the space at least workable to host a couple of fairly well-known touring acts by the end of next week.
Gerber, who previously worked as a talent buyer for the Doug Fir Lounge and still runs the artist management and booking agency Royal Artist Group, says the plan is to let next weekend's shows serve as a soft opening for the space. "I want this first weekend to go well and then I want to improve on the experience," he says. "It's not exactly at my vision level yet, so I want to give myself time to re-roll it out in its full glory."
As well, Gerber emphasizes that the goal is to keep the possibilities for Stage 722 wide open, so that it can be used for community events, theater performances, bar mitzvahs, and weddings.
At the moment, though, all that Gerber and Stage 722 can promise are live music events. Beyond the two happening next weekend, they've already lined up a couple of performances in 2020: Singer/songwriter Greyson Chance plays next January, and jazz-funk collective Antibalas appears as part of the 2020 PDX Jazz Festival on February 22.
Stage 722 and Morrison Market are located at 722 SE 10th; the website for the venue is here.