In a
recent interview
with Dodgr that discussed Red Bull Presents: Dodgr—her then-forthcoming headliner gig at Roseland, and her last show in Portland for a while—the artist said "I hope that when everybody walks into the Roseland on October 19, they feel like it's not the Roseland. That's the goal." And I've gotta say, after attending the beautiful, sold-out concert on Saturday, I think Team Dodgr definitely accomplished what they set out to do.
Sponsored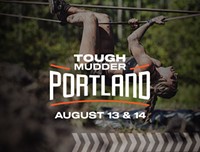 Lock in your summer adventure, Portland. Join us for world famous obstacles over a 5K or 10K distance.
The Roseland seemed to transform itself for the very special showcase; the DJ booth was in the middle of the GA floor for a change, and framed by a lit-up cube with Red Bull logos. There was also a giant, orange inflatable couch in the corner that seemed to be getting lots of butt-business. After the show, frequent Dodgr photographer Tiki tweeted about what went into making the Roseland feel like a completely different venue:
been planning that show since January. idea was to change everything about the feeling of the Roseland and we delivered that via lineup, stage design, alternate security guards, and installations. shout-out red bull.

big smiles only.
— t i k i (@tikisaidthis) October 20, 2019
Perhaps the most notable and ingenious addition to the room was the runway attached to the stage, which genderqueer rapper/singer/dancer Maarquii made good use of during their captivating opening set. And while I've long been acquainted with the work of Gifted Gab, seeing her slay as part of West Coast hip-hop/R&B duo Blimes & Gab was a real treat.
There were also lots of friendly faces in the crowd from Portland's creative community: all the DJs, artists, dancers, promoters, bookers, photographers, writers, and fans who've been supporting the locally based, LA-born artist on her come-up. When Portugal. The Man came out to introduce our beloved Dodgr, the excitement in the room was palpable, as were the unmistakable sounds of Dodgr's loved ones losing their entire shit in the rafters.
When Dodgr took the stage around 11 pm, she kicked off her setlist with "Truth," her
catchy new single
with Alicia keys and Mark Ronson. It was the perfect set-starter, and her voice sounded great. Dodgr went on to perform some of her deeper cuts, like "Squadron" and "Oofda" from 2017's joint
Bone Music
LP with producer Neill Von Tally.
Flanked by two dancers, Dodgr was polished as she tackled light choreography to "Wrong Way," and others. At one point, Dodgr's dancer TJ performed a solo tap dance routine in between songs, and then Dodgr came out and spit rhymes to the beat of his feet. Can't say I've seen that before! Dodgr also had a documentary-style video lined up, but there seemed to be some sort of malfunction with the sound.
Oh well
, everyone seemed to think. A person from our own community had packed out the Roseland in unrecognizable fashion; nothing was going to stop us from enjoying this night.
The best part of the evening for me was when Dodgy performed a handful of previously unheard tracks. One pop-leaning song in particular stood out as a new favorite; it repeated the refrain "This light work," and had a clear sample that I couldn't quite put my finger on.
(Don't mind me, I'll just be waiting impatiently for this shit to drop.) The last official song on the setlist was her effervescent new R&B single
"Hot,"
her most streamed song that blew up after appearing on an episode of HBO's
Euphoria
. There was lots of singing along to this one; you just can't help but love that Pomeranian verse. After exiting the stage for a couple minutes, Dodgr came out for an encore, rapping one more unreleased track from her forthcoming solo debut.
Even though the artist says she's moving home to LA for a bit so she can be closer to her family and continue building her career from there, Portland will always be a home and open its arms to Dodgr. Saturday's concert was the icing
and
the cherry on the big Dodgr cake we've all been enjoying for the past few years. It was a sweet, fun binge while it lasted.
Sponsored
Virtual Auction Event & Drag Queen Fashion Show. You won't want to miss this show!