Alert! Tomorrow—October 31, also known as Halloween—is the last day Multnomah County voters can safely mail in their ballot in time to be counted in the
November 5 special election
. While you'll still be able to dunk your ballot
into a certified drop box
up until 8 pm election night, it's arguably easier to just hand the goods over to your trusty mail person. (Don't forget that
Optional Secrecy Sleeve
, though).
Sponsored
Win a behind-the-scenes tour of our kitchen, see how we make our artisan edibles, and get some swag.
Still stuck on how to vote on the local and regional ballot measures? Didn't know they even existed? Below is our handy guide to what they're all about, why they matter, and how the Mercury suggests you fill in your bubbles.
Portland Public Schools Levy Renewal
In 2014, Portland voters passed a levy, charging homeowners $1.99 for every $1,000 of their home's assessed value. That means if a home's assessed value (not to be confused with its market value) is $400,000, owners pay $796 annually. These funds cover the salaries for the tireless teachers at Portland Public Schools (PPS). Since 2014, the levy has employed an annual average of 825 teachers. This ballot measure asks Portlanders to renew the PPS levy for another five years.
The Mercury sez: Vote YES
Metro Bonds
Behold, the only slightly contentious measure on the ballot: An ask to redirect property taxes to fund conservation work on public lands owned by Metro, the regional government agency for Multnomah, Clackamas, and Washington counties. The bond charges homeowners 19 cents per $1,000 of their home's value (if a home is worth $400,000, that's an annual cost of $76) to continue Metro's work creating native fish habitat in local rivers, restoring wetlands, maintaining trails and parks, and continuing a program that helps communities restore wild spaces in their neighborhoods.
This bond won't necessarily increase taxes, as it's replacing a Metro bond that's about to expire. Yet extending the duration of apparently any tax is something local libertarian organizations refuse to get behind: Both the Cascade Policy Institute and the Taxpayer Association of Oregon have come out in opposition to the bond, as has the Oregonian Editorial Board, which says the measure is too vague.
The Mercury sez: Vote YES
Bull Run Watershed Protection
The City of Portland is currently required by the state to protect the Bull Run Watershed—the city's primary source of drinking water—from pollution caused by public use. That state mandate, however, is set to expire in 2027. This measure would enshrine Portland's requirement to protect the Bull Run in the city charter, making it much harder to undo. The alternative is putting this off until 2028, when you're showering in sewage water.
The Mercury sez: Vote YES
Emergency Mutual Aid Agreement
When that earthquake we're all living in fear of actually hits, all of Portland's drinking water could be contaminated with toxic sludge. Overnight, those smart jerks who stocked up on filtration systems and water jugs will become our Water Overlords, and we, the dehydrated masses, will have no choice but to initiate the Great Water War. Or we could pass a ballot measure that will ensure that, in times of crisis, Portland is able to receive emergency water from other cities. The choice is yours.
The Mercury sez: Vote YES
Sponsored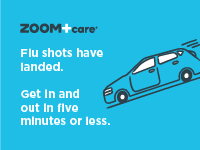 ZOOM+Care makes flu shots easy and safe. Schedule ahead, skip the line—get in and out in 5 minutes.