Billion-dollar insurance companies might soon be excused from a Portland business tax meant to fund green energy jobs and sustainable building projects.
Last year, Portland voters approved the Portland Clean Energy Initiative, a ballot measure that created a new 1 percent local revenue tax for retail businesses that earn at least $1 billion total, and $500,000 locally, each year. The initiative, which passed with 65 percent of the vote, dictated that revenue from the new tax will be used to fund projects that primarily benefit low-income people and communities of color—two groups that have historically been excluded from environmental jobs and benefits.
But since passing a vote and being adopted as city code in February, the Portland Clean Energy Fund (PCEF) has been a target of scrutiny, with many industries questioning which businesses are—and should—be subject to the surcharge. While the common lay definition of a "retail business" is a store that sells goods to a consumer, the city's revenue division has determined that the language of the PCEF measure applies to a broader definition of "retail"—one which includes industries like construction, garbage hauling, and insurance companies that sell retirement benefits. (Health insurance is exempt from the tax.) Willamette Week reported last month that leaders from those industries are mulling a lawsuit against the city to fight what they see as an unfair inclusion in the tax.
But a lawsuit might not be necessary: Documents obtained by the Mercury through a public records request show that city leaders are considering granting exemptions to those industries.
An October 3 chart from the city's revenue division, emailed to the offices of Mayor Ted Wheeler and Commissioner Jo Ann Hardesty, lays out different options for amending city code to excuse all or parts of the construction, garbage hauling, and insurance industries from paying the PCEF tax. The different options would reduce the projected annual revenue for PCEF from the $54-$71 million range to the $44-$63 million range, according to the revenue division's chart.
"After meeting with Mayor Wheeler and Commissioner Hardesty and staff, Revenue has been given direction to look into the viability and impact of some additional modifications to [the PCEF tax]," wrote Tyler Wallace, the city's tax division manager, in an email to Thomas Lannom, the revenue division director, in a September 27 email.
Emails from Wheeler and Hardesty staffers show they were involved in and kept updated about exemptions being considered for the tax.
The Portland Business Alliance (PBA)—which led the campaign against PCEF's initiative—supports those exemptions.
But leaders from the coalition which led the campaign for PCEF are reluctant to change ano the measure as it was originally written and voted upon by Portlanders. PCEF coalition members did tell the Mercury that they might be willing to compromise on exemptions for the construction industry, because many projects PCEF funds will likely involve partnerships with construction companies. They are also open to excusing garbage haulers, because garbage hauling could arguably be considered a utility, and utilities are exempt from the tax.
But when it comes to exemptions for the insurance industry, PCEF coalition spokesperson Jenny Lee says it's a matter of corporations "not willing to pay their fair share," and pursuing an exemption that is not "grounded in strong public policy."
"We've heard this from many, many sectors, where these spokespeople or their lobbyists say, 'We don't think we should have to pay,'" Lee added.
Andrew Hoan, the CEO of PBA, told the Mercury in an email that PBA is pushing for the exemption because taxing companies that sell retirement benefits "would drive up the cost for the vast majority of Portland employees, whose employers offer these plans."
"According to industry leaders, without a change Portland will be one of the only (perhaps the only) jurisdictions in the country to tax the sale of employee and retirement benefits plans as retail," Hoan wrote.
A point of clarity: Retirement funds themselves would not be taxed by PCEF; rather, the customer fees associated with opening and maintaining those funds would be taxed as retail. Insurance companies would then have the discretion to absorb the cost of the tax themselves, or pass it on to their customers in the form of higher fees.
It's unclear which insurance companies do or do not meet the sales threshold to qualify for the PCEF tax, though Hoan wrote that there are "several companies who sell employee benefits plans and retirement plans products who have been swept in under the current interpretation." In Portland, one of the largest insurance companies that sells employee benefits is The Standard Insurance, which donated $50,000 to the campaign against the PCEF initiative.
For Lee, PBA's focus on how the PCEF tax could drive up costs for Portland employers doesn't tell the full story.
"They are billion-dollar corporations," Lee said, "and the harm to the economy [from exempting them] would be seeing fewer living-wage jobs in green energy, fewer folks who are trained to work in the solar industry… The true economic benefit is getting resources and good jobs in the hands of lower-income folks, and those who have been shut out of the green economy."
Lee added that she struggled to see why the insurance industry deserves an exemption over other industries. She said she worries that other industries might start lobbying for their own exemptions, and that the city will be open to hearing them.
"We need assurances that the door is not going to keep being opened every time an industry says 'We don't think we should have to pay,'" she said. "There can't be this uncertainty around the amount of revenue. We need to have adequate dollars for outreach and capacity building."
At the same time that city leaders are discussing possible exemptions for the PCEF tax, they are also finalizing appointments for the PCEF grant committee, the group of nine community volunteers who will determine which projects PCEF will fund. The city has already appointed five members, and the remaining four are expected to be confirmed in November. (The city has also hired employees to oversee the coordination of the PCEF fund, but those employees are not involved in City Council policy discussions or decisions about exemptions.)
While all changes to PCEF policy are ultimately subject to a Portland City Council vote, the grant committee is supposed to be able to weigh in on them. That responsibility is laid out in the listed committee duties in the PCEF ordinance:
"Make recommendations to the City Council on changes to this law as necessary to ensure the effectiveness of this Measure in achieving the stated goals of implementing the City's Climate Action plan in a matter that supports social, economic, and environmental justice."
But because the grant committee isn't even fully formed yet, it has not been able to influence the city's current considerations. In the meantime, the language of the voter-approved initiative is at the will of city commissioners.
Lannom from the revenue division noted that "there is still time to implement [the exemptions] retroactively to tax year 2019," in an October 3 email to Wheeler's and Hardesty's offices, suggesting city leaders may feel the need to pass the exemptions sooner rather than later.
Heather Hafer, a spokesperson for the city's Office of Management and Finance, told the Mercury that there is not a "firm deadline" for applying these exemptions to the 2019 tax year, but that "from a tax administration perspective, we would prefer having any amendments completed well in advance of the April filing and payment deadline." Because 2019 is a grace year for the PCEF tax, companies will not be penalized for late payments.
"I appreciate the need for being able to have a conclusive answer," Lee said when asked about exemption considerations occurring before the grant committee has been formed. "But it's really important to do this right, both as a policy matter and a political process."
Lee added that she does appreciate that city leaders have been willing to listen to PCEF coalition members—as opposed to only considering PBA's interests. She said that it feels markedly different from how City Council might have operated in the past: "If the powerful interests asked for a change, it might have just sailed through."
Lee credited that change both to the current makeup of City Council, and "an increased understanding that [frontline communities] need to be in the room with PBA."
"We appreciate that the city has been seeking to facilitate and encourage those conversations, so we're able to engage in a robust policy-making process," Lee said. "I hope we'll come to an outcome that preserves the goals of the fund."
Sponsored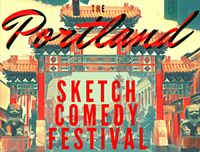 Sketch comedy troupes from all over N. America descend on The Siren Theater for 3 glorious nights.