New details and a timeline for the Rose Lane Project—the Portland Bureau of Transportation's (PBOT)
plan to add bus-only lanes to streets throughout the city
—emerged at Thursday evening's Portland City Council meeting. The project's overarching goal will be racial equity in commute times, and it will also aim to make public transit a more viable option for all Portlanders.
Sponsored
Sketch comedy troupes from all over N. America descend on The Siren Theater for 3 glorious nights.
Specific plans for the Rose Lane Project won't be announced until later this month, but Thursday's meeting marked the kick-off for the project's public review phase. Commissioner Chloe Eudaly introduced a report on the project by noting that in order to achieve the city's goals of reducing carbon emissions and traffic fatalities, more Portlanders need ditch their cars more often.
"For those of us who live in walkable, bike-able, transit-rich neighborhoods, that should be easily achievable," said Eudaly, who oversees PBOT. "But for the nearly 50 percent of Portlanders who don't live in such neighborhoods, or have such long commutes that public transportation is not a viable option, we have to do better."
Eudaly announced her plans to add red-painted, transit-priority lanes to Portland streets in a Willamette Week article earlier this year. Just last week, PBOT painted its first red bus lane in downtown Portland—but while that red paint was used to distinguish a lane that was already bus-only, the Rose Lane Project will take things a step further by transforming some car lanes into bus-only lanes for many blocks at a time.
Jamey Duhamel, who serves as Eudaly's policy director, said that planning for the Rose Lane Project is focused on the "ways transportation can improve lives, create economic opportunity, decrease displacement, increase safety, and slow down the impending climate catastrophe."
Duhamel named five key goals for the project, outlined here in a slide:
"We found there was a big difference in average commute times when broken down by race," Duhamel said when explaining the project's overarching goal of making commute times more equitable. "The data tells us that the average Black commuter spends an extra five minutes, one-way, just to get to work."
Duhamel noted that while five minutes "doesn't sound like a lot," it adds up to 40 hours a year. She added that by aiming to close that commute time gap, PBOT would inherently be working toward other valuable goals: speeding up public transit, reducing carbon emissions, and giving people more control over where they choose to live and work.
"When we center justice for people of color, we are also centering climate action, and economic opportunity," she said.
After PBOT unveils the street-specific plans for the Rose Lane Project later this month, it will hold three open houses for public input in December. The plan is expected to go before City Council for a vote in February. PBOT hopes to begin installing Rose Lane Project lanes next year.
Sponsored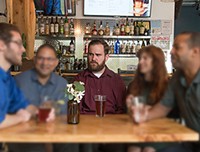 Adults aged 18-35 with good hearing will be paid for their time. Located at the Portland VA Medical Center