Yesterday, Mayor Ted Wheeler announced Portland Police Chief Danielle Outlaw's
unexpected resignation
at the same time he named Deputy Chief Jami Resch as her permanent successor. Resch, 45, was sworn into office at noon today.
Sponsored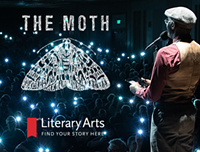 Literary Arts presents The Moth: Portland Mainstage. True Stories, told live. Held at Arlene Schnitzer Concert Hall.
To outsiders, this decision appeared abrupt and hurried—especially in contrast to the months-long search Wheeler conducted before appointing Outlaw to head the Portland Police Bureau (PPB) in 2017.
They're not entirely wrong: Wheeler only learned Outlaw had accepted a job as Philadelphia's police commissioner on Thursday, Dec. 26. Wheeler was told the City of Philadelphia was going to announce this news before the end of 2019. In the course of four days, Wheeler decided to promote Resch—not as an interim, temporary chief, but as the bureau's permanent leader for the foreseeable future.
"It's difficult for me to trust his snap judgment in this instance," wrote mayoral candidate Sarah Iannarone in a statement sent to OPB, echoing the concerns of other Portland advocates for police reform. "In the hiring of the last chief, Wheeler promised Portlanders a transparent process which we did not get; it's not clear to me how this is an improvement over that."
Wheeler's chief of staff Kristin Dennis told the Mercury that the decision didn't call for an intensive search, partially due to the work Wheeler put into a national search for a new PPB chief two years ago.
Wheeler began that search shortly after he entered the mayor's office in January 2017. While then-police chief Mike Marshman (a favorite among rank-and-file officers, but distrusted by police reform advocates) was a finalist for the position, Wheeler ultimately selected Outlaw, a 19-year veteran of the Oakland Police Department.
"When we were searching for a new chief in 2017, we knew we needed someone to come in and shake up the bureau," said Dennis. "But this time is different—we're happy with the trajectory we're on."
Dennis said that Outlaw was able to create a strong leadership team, something that PPB didn't have before. One of those leaders was Resch, a 20-year veteran of PPB who Outlaw promoted to deputy chief in May 2019. Dennis said that Outlaw regularly delegated responsibilities to Resch as her second-in-command.
"She knows how to do the job and she understands what the mayor wants to accomplish," said Dennis. "She already has the respect of people in the bureau, she's trusted, she gets it."
There's also a fear in City Hall that another outside chief could bring the same uncertainty that accompanied Outlaw's hire. From the start, locals suspected that Outlaw was simply using the position as a stepping stone between Oakland and a career as police chief of a larger metropolitan city. Those suspicions were confirmed yesterday.
Resch, a University of Portland graduate whose spent decades in Portland, doesn't come with those liabilities.
"At this time, it's incredibly important that the bureau be led by someone who understands the bureau, the city, and the community," said Dennis. "There is a huge benefit today in being able to appoint a police chief with deep roots in Portland."
There were other factors that steered Wheeler away from kicking off an intensive search for an outside police chief. One of them is the simple fact Wheeler's up for reelection in 2020, adding a level of uncertainty to his future in City Hall.
"It's incredibly difficult to recruit new bureau leadership in an election year," Dennis said. "Highly qualified candidates might pass on the opportunity given the natural uncertainty created by an election. It's a huge risk for someone to leave their current position for a new position when they can't be certain who they would be reporting to beyond the first few months."
Perhaps more importantly, Dennis underscored the need for stable police leadership as the city enters contract negotiations with PPB's rank-and-file union—the Portland Police Association (PPA)—a historically contentious process that will begin in a few weeks. Portland City Council's also scheduled to begin the year by holding work sessions on the efficacy and purpose of major police bureau programs, like the Gun Violence Reduction Team, the use of PPB officers in public schools, police body cameras, and PPB's traffic division.
"Stability at this time allows us to help develop and implement progressive policies as we continue our forward momentum with the support of the council," Dennis said. "That said, this is also a time for recalibration."
According to Dennis, the city is planning on hosting a series of "inclusive community meetings" with Resch in the new year, where Portlanders can share their thoughts and recommendations on the future of PPB under a new chief.