Despite opposition from the homeless community, Portland City Council is expected to approve a new year-long contract with Rapid Response Bio Clean—a company that removes homeless encampments on public property—during Wednesday's council session.
Sponsored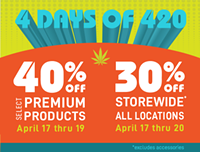 30-40% off Premier Dispensaries April 17-20
Flower, pre-rolls, edibles, carts and more.
These 4 Days of 420 are for you.
Rapid Response and a fellow contractor called Pacific Patrol Services have been conducting camp sweeps for the city's Homelessness/Urban Camping Impact Reduction Program (HUCIRP) since 2014.
The cleanups, often triggered by complaints submitted by members of the public on the city's One Point of Contact website, fall within legal boundaries outlined in a 2012 settlement agreement. That agreement mandates that the city gives campers at least 48 hours' notice before cleaning up their campsite and that, at the time of the sweep, the city must collect and store all property that is "recognizable as belonging to a person and that has apparent use." That property can be retrieved at a Southeast Portland warehouse within 30 days—after which it's discarded.
After hearing of complaints of lost property and harassment by contractors, HUCIRP decided to update the contract it has with cleanup companies. The new contract increases the responsibility of these waste removal contractors, turning them into quasi-social workers during severe weather (by requiring contractors "conduct welfare checks" and direct campers to warming stations) and making sure they have at least one staffer on call who is trained in de-escalation techniques for people in a mental health crisis.
---
RELATED
: "
Acceptable Losses
" [
Feature, December 5, 2019
]
---
A new contract (which comes with a yearly $4,528,000 stipend) meant current contractors had to re-apply to the job—if they wanted it—and gave other businesses a chance to take over the contract. After a search, a city committee selected Rapid Response to be the sole company carrying out the city's sweeps. But, days before City Council was expected to approve that contract, homeless advocacy groups lobbied to stall the vote and reconsider the entire program.
"We can't be asking biohazard cleanup folks to do frontline outreach work," Street Roots director Kaia Sand told the Mercury on December 19. "The city says this is the best system they got. But I say, if the system is broken—we go after the system."
Sand was joined in her opposition by a new advocacy group called Stop the Sweeps PDX, which demanded a moratorium on all cleanups conducted by the city. The outcry got the attention of at least one city leader—Commissioner Jo Ann Hardesty announced that she opposed the current contract and asked council to only approve a 6-month-long contract. That would allow time, Hardesty argued, for the city to "reimagine" the camp cleanup process and possibly divvy up cleanup responsibilities among smaller organizations with more specific expertise. The city delayed the vote until the new year.
Meanwhile, the current Rapid Response contract expired, effectively halting all camp cleanup operations in Portland.
Those cleanups are expected to resume after a Wednesday council vote, when commissioners are set to reconsider the contract. In response to Hardesty's pushback, Mayor Ted Wheeler's office agreed to hold community meetings to discuss the contentious program before a contract renewal in 2021.
It's expected to get a unanimous vote from council.
"Previously I had stated my hope that an alternative to one large contract could be fostered with a six month extension," wrote Hardesty on her public Facebook page Monday. "What I know now is that the city is in fact working to split the contract work to award to smaller contractors in the near future and I am hopeful we can do this within this new one year time period."
Hardesty expressed her support of upcoming "community conversations" regarding homeless sweeps. This concession doesn't sit well with Sara Rudolph, member of Stop the Sweeps PDX.
"It doesn't make sense that they'd agree to extend this contract before hearing from the community," Rudolph said. "To go ahead and promise public money to a private entity without getting community input, that doesn't seem responsible. They clearly aren't genuinely invested in these conversations. It's negligent."