For the last couple years, Gerry Mohr worked a graveyard shift cleaning TriMet's MAX trains and buses after they were done running for the day. That changed this week, when Mohr started a new position: cleaning MAX trains throughout the day while they're still in service.
Wearing a face mask and gloves, Mohr boards the trains running between the Goose Hollow and Rose Quarter MAX stops, and cleans seats, poles, and other frequently-touched areas while people are commuting. His job is part of TriMet's recently ramped-up efforts to prevent the spread of COVID-19.
Sponsored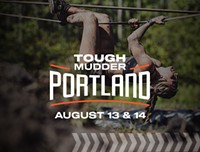 Lock in your summer adventure, Portland. Join us for world famous obstacles over a 5K or 10K distance.
"In light of the current situation, what we're basically focusing on is disinfecting all the surfaces people touch throughout the day," Mohr said. "I'm keeping my distance [from riders] and putting antiviral stuff on things people touch. … Everyone's happy to see it, that's for sure."
As many Portland workplaces and intuitions suspend activity or adapt new social distancing policies due to the coronavirus, TriMet employees are adjusting to their own new normal.
For one yellow and orange line MAX operator, that includes driving a much emptier train. With schools, businesses, and public agencies transferring to social-distance mode, fewer people need to use TriMet for their daily commutes.
"A train I operate that's usually packed during certain hours—like standing-room only—is now maybe half-full of seated people," said the operator, who asked for anonymity so that they could speak freely. "It's gone dramatically down."
The operator's observations align with TriMet's own numbers. On Tuesday, the transit agency announced it had seen a 10 percent drop in ridership over the last week, after seeing a five percent dip the week prior.
For the people tasked with operating and cleaning TriMet vehicles, that reduced ridership is a good thing, because it makes it easier for people to maintain a healthy distance from each other. When asked whether he and his fellow service workers are worried about contracting COVID-19 at work, Mohr answered, "Maybe a little bit."
"Keeping a distance from the people that are on the train [is easy], because the ridership is so diminished," he added. "Like, fantastically diminished."
The MAX operator said they aren't too concerned about their own health either, because TriMet has "provided us wipes and different stuff to wipe down the cabs, and all the air that I get is filtered." But, they said, they'd be "more concerned" if they drove a bus, where there's less separation between the operator and riders.
In a Tuesday press update, TriMet advised riders to "maintain a 3-foot distance from the operator, as a precaution for both them and the operator."

TriMet so far has not changed its service schedule, despite the low ridership. From the agency's Tuesday update:
"TriMet has not made any changes to our transit service as we help move health care workers, social service workers, our own transit staff, first responders and others who must travel during this time so they can help keep people safe and healthy and keep our community going. However, we may need to adjust service due to any new direction from health authorities and government leaders or due to staffing levels."
Unlike some other Portland workplaces and agencies, TriMet can't afford to suspend service completely without severely impacting people who rely on it for their transportation needs.
"The thing is, it's a hard job—how do you protect the public from exposure on public transit?" said the MAX operator. "Because people have to have public transit to get to these life-saving places, stores. So I think [TriMet is] doing a pretty good job now."
Another TriMet maintenance worker the Mercury spoke with—who also asked for anonymity—said that there's at least one upside for their coworkers right now.
"They've got a lot of overtime for the cleaning crew," the maintenance worker said. "Some of them aren't at the top pay scale, so this is helping them out."
Many TriMet cleaning crew workers join the agency with the hope of moving into a more rewarding, high-paying position. TriMet's apprenticeship program trains entry-level employees for more specialized jobs with the agency, such as a bus mechanic or construction manager.
Mohr said that for TriMet employees who start out on the cleaning crew, the chance to join the apprenticeship program "is the thing that makes it a career, and not just a job."
But that apprentice program is now at risk of being cut during the current round of union contract negotiations. A TriMet spokesperson told Northwest Labor Press in January that the apprenticeships "have not advanced in diversity, do not meet the agency's demand for skilled labor, struggle to keep up with technological developments, and are not cost-efficient."
TriMet has instead began to fill skilled positions with outside hires in recent years, and is planning to cut the apprenticeships altogether by next year. The maintenance worker the Mercury spoke with finds irony in the fact that TriMet employees who benefit from that at-risk program are now doing the vital—and potentially lifesaving—work of disinfecting buses and MAX trains.
"On one hand, [TriMet] wants to cut all of this stuff," they said. "But on the other hand, they're asking, 'Hey, can you help us out, can you help us out?' And these employees are stepping up, you know?"
Mohr says that while he's frustrated with TriMet for the decision to cut apprenticeships, he "wouldn't want to criticize" the agency's efforts to slow the spread of COVID-19.
"It's like, what can anybody do?" he said. "They're going to want to keep the trains running. I would hope they would prioritize the safety of the workers as much as possible."
Mohr added that he's glad he moved from the graveyard cleaning shift to the daytime shift, because now he gets to be around appreciative riders.
"We're extremely gratified at the level of public support," he said. "People are thanking us… I feel like when I'm doing this, I'm around the actual owners of TriMet. This is everyone's. This is public mass transit."