Oregon is receiving two shipments of personal protective equipment (PPE)—gear medical workers use to protect their health in the face of COVID-19, such as N95 masks—this week from the federal government. Gov. Kate Brown said on a call to reporters Tuesday that these deliveries are expected to total "about 25 percent" of the PPE Oregon has request so far.
There's currently a global shortage of PPE gear, leaving medical workers in Oregon worried about what will happen should their supplies run out. On Monday, a member of the Oregon Nurses Association told KGW that nurses are worried PPE could run out this week.
Brown said the shipments, the first of which arrived Monday and the second of which is expected Tuesday, contain about 87,000 N95 masks, 9,000 gowns, and 14,000 gloves—all items that are "critically important to protect the health and safety of our health care workers."
On the press call, Brown gave a few more updates about the state of Oregon's medical system during the spread of the coronavirus. She said that the Oregon Medical Board has updated its emergency rules to allow retired physicians and physicians' assistants to work full-time during the pandemic without having to go through red tape to renew their medical licenses. That move could add up to 500 more care providers to help with the state response to COVID-19, Brown said.
The state government is also working to identify different facilities across the state that could house people who have been released from hospitals, but have tested positive for COVID-19 and still need to be quarantined to prevent spreading the virus. Brown said the potential facilities are in "both urban and rural Oregon," and include Wapato Jail; Marylhurst University in Clackamas County; Hillcrest, a former youth prison in Salem; and the dorms at Eastern Oregon University.
Portland Mayor Ted Wheeler told reporters at another Tuesday press conference that, based on OHSU's predictions, cases are expected to peak in Oregon during the first two weeks of April. While the shipment of PPE from the federal government will help cover some of the gap, it's unclear if Oregon medical workers will have all the gear they need throughout the spread of COVID-19.
"I know you're working really long hours, and this is really hard," Brown said, when asked what her message to Oregon medical workers was. "I am doing everything I can to make sure you have the personal protective equipment that you need."
Sponsored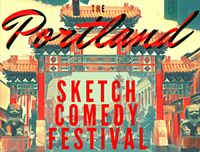 Sketch comedy troupes from all over N. America descend on The Siren Theater for 3 glorious nights.