When Gov. Kate Brown unveiled
an executive order Monday
, directing Oregonians to stay at home unless absolutely necessary, she didn't mention how people without homes were expected to comply. She did mention, however, that anyone who didn't comply with the order would be subject to a class C misdemeanor.
Sponsored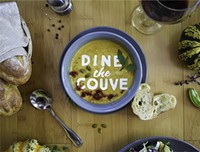 Experience the bounty of northwest flavor with special menus at Clark County restaurants all month.
The omission raised alarm in Portland homeless camps and among advocacy communities, worried that the order would be used as a tool to criminalize homelessness. Now, five days after releasing her initial order, Brown is clarifying what it means for houseless Oregonians and the community programs that support them.
"I want to be clear: Oregon's stay-at-home directives do not apply to shelters and social services," said Brown in a press release sent by her office Friday morning. "They were not intended to serve as an enforcement mechanism against Oregon's unsheltered population, and we would ask all local officials to follow that intent of the order."
The executive order now explicitly states that homeless Oregonians are shielded from the order's enforcement, "simply due to the fact that they are in public and unable to stay at home."
It also protects social service agencies and nonprofits that provide basic food, water, shelter, and hygiene needs from penalties for remaining open. The order advises homeless shelter staff to discourage its clientele from "unnecessary travel" and to promote social distancing. But, it adds, "shelter providers are not expected to keep shelter residents from interacting within shelters or from leaving shelters."
The amendment to the order comes days after Portland Police Chief Jami Resch told reporters that homeless Portlanders would be penalized for blocking sidewalks and other public right-of-ways during the city's state of emergency due to COVID-19. The city has agreed to reduce the number of homeless campsite cleanups and dispersement orders during the state of emergency, but is still clearing out camps "with significant presence of hazardous materials that clearly present a public health and safety risk."
Sponsored
This 9th floor patio boasts stunning views of the city, three mountains, and Portland's West Hills.