Say what you will about the coronavirus (actually... don't), but this quarantine situation has pumped people's creativity levels up to 50 bazillion. Check out some of the best examples of this from today (plus some cutie animals too, of course) in this edition of the
Mercury Cheer Up Club!
Sponsored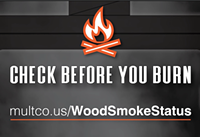 Having clean air means reducing wood smoke. Check before your burn from October 1-March 1.
Today in "You don't have to be the safest dad to be the best dad" news:

Some dads are better at this quarantine-thing than others... pic.twitter.com/jUKJNMkdT4
— Rex Chapman🏇🏼 (@RexChapman) April 10, 2020
Today in "Will you stop hogging the merry-go-round already?!?" news:

Day 25 of #Quarantine: Why am I still counting? pic.twitter.com/EoImS55u1P
— Brutum Fulmen Pledges To Stay Inside🧢 (@BrutumF) April 10, 2020
Today in "Happy National Siblings Day" news:

When you're trying to rest but you have siblings.. pic.twitter.com/tZalnd5boT
— Cute Animals! (@CutestPicsDaily) June 27, 2019
Today in "Prepare to be HYPNOTIZED" news:

PLS STOP LAUGHING. white women only do this when they're VERY stressed or in painpic.twitter.com/YbBuL2LXCu
— She Extends (ft. Megan Thee Stallion) (@68tilinfinity) April 10, 2020
Today in "Adjusting memes to fit our current lifestyle" news:

mood pic.twitter.com/osGTKHDTKZ
— shauna (@goldengateblond) April 10, 2020
Today in "Classic mom pranks" news:

Quarantine Day 33: pic.twitter.com/nymEaB8Hh2
— Best Videos 🎬🍿 (@30SECVlDEOS) April 10, 2020
Today in "Just waiting for my nail technician to arrive" news:

Daily beard grooming regimen #monkey #cute #animals pic.twitter.com/telrd702DS
— Cute Animals Pics & Vids (@imgver) April 8, 2020
Today in "She sees me" news:

Day 32 in quarantine pic.twitter.com/ELEDzsnt18
— Adrian (@adrianmyreality) April 10, 2020
And finally, today in "BRB! Learning this dance!" news:

Day 27 of quarantine pic.twitter.com/6zb2nVe5JU
— MALIQUÉ (@mvlique___) April 10, 2020
If you like this and our other A++++++ content, please consider donating to the Mercury to keep us around!