[Jim Brunberg is the co-owner of Mississippi Studios and Revolution Hall. In the following guest editorial Brunberg introduces us to the Independent Venue Coalition, a group of venues from across Oregon that is lobbying the Oregon Legislature to save the state's music clubs and performance spaces—eds.]
Odds are, on your last great night out, you went to a show at your favorite venue. The place you'd go to get inspired. Where you discovered your favorite band, met your significant other, had an epiphany, attended a neighborhood meeting, went to a lecture about insects, where you danced and sweated and had so much fun, you pretty much floated home.
Sponsored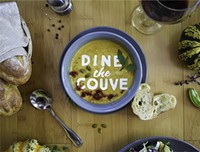 Experience the bounty of northwest flavor with special menus at Clark County restaurants all month.
Odds are the owner of that venue, the one who unclogs the toilets and gives a shoulder for your favorite bartender to cry on after dealing with drunks all week, is your neighbor.
Oregon is unique in that ALL our venues are independent: Every music box and theater, from the crunchy soul of the Laurelthirst and Goodfoot to the expansive Edgefield outdoor concerts, and all places in between (the Roseland, Aladdin, and my places, Mississippi Studios and Rev Hall). None are run by corporate, faceless conglomerates. Every single one is a locally owned haven. So Oregon.
Now your favorite haunt is closed, but you'll survive. After all, there's a plan for reopening, after this godforsaken plague leaves us—right?
Not for venues, no.
Restaurants and massage parlors, soon. Indoor gun ranges? Never closed. But venues? Not even being considered. The future of large gatherings will be uncertain for some time. There is ZERO plan for shows to start happening again—no punk, hip-hop, folk, chamber music, EDM... nada. Some venues are thinking maybe late fall, while others are looking at 2021 as the earliest possible moment they can reopen, if they can last that long. Some say assembly spaces won't be allowed to open until June 2021, or until a vaccine is distributed. Yikes.
"How on earth can these venues survive?" you ask.
Answer: They can't. Not without help.
Venues are in jeopardy, big time. Some will never recover. They were the first businesses to close because of COVID-19, and they'll be the last to reopen. They face zero income, yet have sizable ongoing expenses due to rent (venues need a lot of square footage), insurance, utilities, and staffing. Venue offices are busier than ever as shows are postponed and rescheduled.
In the same way that airlines and sports leagues received a little intensive care from the Feds, it's time to seriously advocate for granting life support to performing arts businesses and institutions. That's why venues are turning to you.
What about the Paycheck Protection Program (PPP), you ask? It is… problematic. And unless you own a Ruth's Chris Steakhouse or chain of hotels, you probably didn't get a PPP loan. If you DID, it only covers eight weeks of employee pay and leaves your business in a new world of pandemic debt. How is a business to sustain itself for the next year or so? Vultures and corporate America circle low, smelling blood.
You may be wondering, "So what if maybe a venue or two fails?" But what a tragic end it would be if even one of these essential institutions folded. These dens haunted by magic; these beloved chambers; these economic anchors for their business districts; these cultural and community hubs for their communities. And what a tragedy it would be for the local economy! For every dollar spent on a ticket, it's estimated that many more dollars are spent with other local businesses: You go out to see a show, you get drinks, you get pancakes at midnight, you buy snacks at Plaid Pantry, you catch a cab—this is commerce, and this is what makes Portland vibrant.
What can we all do to help? Here are three things, and they're all simple, and super cheap/free:
1. Write love notes to your representatives (state and federal) about how important these venues are to you. Letters do matter! Why? Because if Reps. Kurt Schrader and Peter DeFazio vote for our survival, venues will be saved. "Phase 4" federal aid considerations are just starting, and the state of Oregon just got its CRF (Coronavirus Funding). So click HERE and enter your address, and a handy little guide will pop up telling you the email of your state rep and senator, as well as your Congressperson's website.
2. Visit your favorite venue's website and see what they need. Some venues are doing crowdsourcing, and others are selling cool hoodies or T-shirts worth more than the price you pay. Plan ahead for a night out at your favorite haunt by buying gift certificates. Hang on to your tickets, no matter how far out that rescheduled show is. Trade canceled tickets in for vouchers.
3. Visit the Independent Venue Coalition (IVC) website. Over 100 Oregon Independent Venues (all of them!) have gotten together and are fighting together. Businesses who would otherwise compete for your patronage are pooling their energy and brainpower to push for legislation that could assure the survival of YOUR favorite venue. All the independent, passionate, devoted venue owners in Oregon are part of this thing—so go there and see what the latest advocacy measures are, because it changes every week or so.
These are simple actions you can take. Fun? Maybe not. Brief? Yes. Look, these places are important to you. I know, because I've seen you there. I promise that these little action items will fill you with purpose.
While doing so, I invite you to meditate on that future night, down the road, when we all stand together, arm-in-arm, singing at the top of our lungs, tears of joy stinging our cheeks, in a venue that you helped save.
Sponsored
This 9th floor patio boasts stunning views of the city, three mountains, and Portland's West Hills.