Portland Deputy Chief Chris Davis addressed the death of George Floyd by Minneapolis police officers—and the ensuing protests—during a press call Thursday afternoon.
Sponsored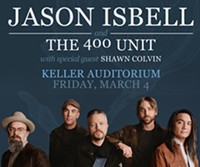 Jason Isbell has established himself as one of the most respected songwriters of his generation. Don't miss Jason Isbell and the 400 Unit, March 4th at Keller Auditorium!
"What we see in this in this video from Minneapolis does not represent the values or standards of our profession," said Davis. "What we see... represents a big step in the wrong direction."
Davis is referring to a cell phone video that captures Floyd's last moments on Monday, May 25. In the video, Minneapolis Officer Derek Chauvin is seen kneeling on top of Floyd, a 46-year-old Black man, who is lying on the street in handcuffs. Chauvin presses his knee on Floyd's neck for seven minutes, blocking his airway, as Floyd says "I can't breathe." Floyd, who had been arrested for allegedly trying to use a counterfeit bill at a grocery store, lost consciousness before Chauvin released him. Floyd was pronounced dead after an ambulance took him to a hospital.
Davis said the the Portland Police Bureau (PPB) has received several calls since Floyd's death asking about the bureau's own training and policies around use-of-force.
"For me to sit here today and spell out all the things we've done in Portland to avoid an outcome like the one that we saw in this case, in some way misses the point," Davis said. "We just need to be real about the fact that, in our profession, we have a problem with our relationship with communities... particularly marginalized communities, communities of color."
Davis commended the decision of Minneapolis Police Chief Medaria Arradondo and Mayor Jacob Frey to fire Chauvin and three other officers involved in the incident.
Davis did not, however, comment on the actions Minneapolis officers have taken to address protests that have resulted from Floyd's death. Officers have fired munitions and tear gas at crowds of protesters that gathered Tuesday and Wednesday to demand a criminal investigation into Floyd's death. The escalating violence dissolved into widespread looting and arson Wednesday evening.
"Without more specific information about reasoning, it wouldn't be fair for me to weigh in on their tactics," said Davis. "But... what we're seeing happening is not good."
Davis said PPB officers are prepared to respond to any local protests in response to Floyd's death, but only if the events spur criminal activity. Two demonstrations against police violence have been scheduled for Friday in Portland.
"Policing protests takes on a new dimension when the protest is about the police," Davis said. "In general, we try not to be involved in those, unless we have to... because we recognize that the visual presence of police officers could be triggering for people."
Davis asked that all protesters follow social distancing guidelines during the scheduled events. He said PPB isn't planning on enforcing those guidelines during the protests.