We need your help. The economic fallout of the coronavirus crisis is threatening our ability to keep producing the quality reporting you've come to love. If you're able, please consider making a monthly contribution to the Mercury.
Good morning, Portland! Just when you thought your respiratory system had enough threats—with this year's local, free-range blend of COVID-19 and tear gas—a wildfire smoke wind storm shows up. It's nature's way of saying: "Happy Labor Day! Your commitment to a broken, capitalistic system is turning this country into a hellscape!" And now, more news from the long weekend:
Sponsored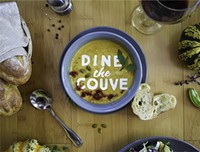 Experience the bounty of northwest flavor with special menus at Clark County restaurants all month.
- Saturday marked the 100th day of consecutive protests against violent and racist policing. Portlanders celebrated that milestone with a number of daytime events (featuring speakers musicians, and free snacks) and the standard nighttime rally (featuring tear gas, molotov cocktails, and mass arrests). Here's our photo roundup from the dynamic day.
- The Portland Police Bureau (PPB) has spent $6.9 million on overtime in June and July, according to reporting from KATU. That's a 200 percent increase in overtime spending compared to that same time period last year. Related: The Oregonian found that Portland police spent more than $117,500 on impact munitions, chemical weapons, and other "crowd control" tools during the first seven weeks of protests.
- A 17-year-old protester is alleging a Portland officer sexually assaulted her while being arrested a week ago. Mercury contributor Cata Gaitán has the story.
- The Oregon Department of Transportation (ODOT) has pulled the plug on an advisory group for its contentious I-5 Rose Quarter project, after the group disagreed with ODOT's plan. We spoke with the group's members to get a clearer picture of what went down.
- Over the weekend, the Oregonian editorial board penned yet another unsurprising anti-protest op-ed, directing protesters to just go home and trust leadership (and police!) to figure out police reform. Fortunately, Portland activist and editor of We Out Here Magazine Mac Smiff wasn't going to let it fly by unnoticed.
- A caravan of Trump supporters drove south from Clackamas to Salem Monday, hanging out car doors and waving massive Trump flags as they careened down I-5. At least two right-wing demonstrators were kindly arrested in Salem for assaulting counter-protesters. (Okay, now do Portland).
This is an arrest, but it almost looks like their just shooting the shit pic.twitter.com/PZ9RRcroa7
— Sergio Olmos (@MrOlmos) September 7, 2020
- Meanwhile, local protesters gathered in Cathedral Park for a Labor Day rally and march led by BIPOC activists:
100+ days, No Justice No Peace!

St. John's Labor Day #Blacklivesmatter march and rally

Portland OR Mon 9/7/20#PortlandStrong pic.twitter.com/9q6rmeYeN0
— PDX Resistance ✊ (@Pdx_resistance) September 7, 2020

- A sixth Oregon inmate his died from COVID-19. The man died while in custody at the Snake River Correctional Institution, a facility that saw a spike in coronavirus cases in July. Since it's still impossible to maintain social distance guidelines while in prison, this probably wont be the last fatality behind bars.
- A mixture of high winds and dry land sparked no less than 80 fires across central and eastern Washington Monday, funneling smoke down to Portland. The small town of Malden, just south of Spokane, was all but destroyed over the course of an hour. According to state officials, 100 percent of the fires were started by human activity.
- The Portland area saw major power outages last night, both due to downed power lines caused by high winds and preventative actions taken by Portland General Electric to keep sparking lines from starting a fire. Electricity is expected to be restored today.
- California, meanwhile, has burned through a record 2 million acres this fire season. Over the weekend, officials disclosed that one of the many fires was sparked by an incendiary device used during a gender reveal party. (Yes, you're correct: This isn't the first time a gender reveal party started a wildfire.)
pic.twitter.com/1vE5cQuXY5
— nick (@nicktatorship) September 7, 2020
- A lead organizer in Belarus' anti-government protests was "abducted by masked men and hauled away in a van" Monday morning while walking in the capital Minsk, according to local media reports citing eyewitnesses. Government officials, meanwhile, have denied knowing anything about her whereabouts.
Sponsored
This 9th floor patio boasts stunning views of the city, three mountains, and Portland's West Hills.