Governor Kate Brown will be giving a 1 pm press conference to provide updates on the current state of Oregon wildfires and the progress being made to contain them. She's expected to be joined by various state firefighting and public health officials who will also share information on evacuations, air quality, and how the wildfires are affecting various parts of the state.
Yesterday Gov. Brown declared a state of emergency for Oregon, warning that the state's current wildfires could be the worst Oregonians have seen in modern history, and that we should expect significant losses of "both structures and human lives." According to the governor, the towns of Detroit, Blue River, Vida, Phoenix, and Talent are "substantially destroyed." We're all hoping for better—or at least more hopeful—news today.
WATCH THE GOVERNOR'S PRESS CONFERENCE HERE, SCHEDULED TO START AT 1 PM.
Sponsored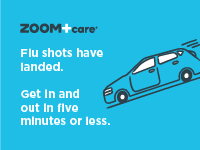 ZOOM+Care makes flu shots easy and safe. Schedule ahead, skip the line—get in and out in 5 minutes.