We need your help. The economic fallout of the coronavirus crisis is threatening our ability to keep producing the quality reporting you've come to love. If you're able, please consider making a monthly contribution to the Mercury.
Sponsored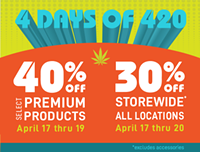 30-40% off Premier Dispensaries April 17-20
Flower, pre-rolls, edibles, carts and more.
These 4 Days of 420 are for you.
Good morning, Portland! And here's your good news for the day: Just two more months until January 20th. If we can get through these next two months, we can do anything.
Here are the headlines.
• Oregon hit yet another unsavory record yesterday: 1,225 new COVID-19 cases were reported, the most in any single day since the pandemic started. We also saw the most reported coronavirus-related deaths in a single day yesterday.
• And across the country, over 250,000 people have died from COVID-19 so far—more than in any other country, even ones much more populous than here. These maps from the Washington Post can help you visualize just how many people that is.
• Meanwhile, in California, Gov. Gavin Newsom has imposed a curfew on all businesses in an effort to slow the spread of COVID-19.
• Anyway, this seems like good advice:
NEW: The CDC is now strongly recommending people do NOT travel for Thanksgiving. https://t.co/2CzUbK72lw

— BuzzFeed News (@BuzzFeedNews) November 19, 2020
• Okay, here's something good related to the pandemic: Pfizer has applied for emergency approval from the FDA for its new COVID-19 vaccine. If it's approved quickly, the company says it could start to be available for high-risk people as early as next month.
• The headline truly says it all: "Tyson Managers Suspended After Allegedly Betting If Workers Would Contract COVID."
• The White House is moving forward with plans to host big, in-person holiday parties this year. Hey, it won't be the first time the White House hosted a superspreader event.
• In local news: The city of Portland moved forward with clearing an encampment of houseless people in Laurelhurst Park yesterday, despite advocates calling for the city to simply leave them alone. "I can't believe it's happening," said one woman who lived at the camp told the Mercury. "I don't know where I'm going to go."
• Portlanders overwhelming approved a new police oversight board on Election Day—but the city of Portland is already facing a lawsuit against the new policy from the union for Portland cops. In order to sidestep the litigation, the city is pushing for the Oregon State Legislature to pass a bill that will allow them to move forward.
• THEN WHAT WAS IT?? (Probably mascara used to touch-up his sideburns, according to the article.)
Rudy Giuliani gave a news conference on Thursday in which, as he continued to cast doubt on the results of the election, it looked as though his hair was melting. Several hairdressers have said that what was dripping down his face was likely not hair dye. https://t.co/0GE2e38FxI

— The New York Times (@nytimes) November 19, 2020