Aw man. It's almost the new year, and I want to HANG OUT WITH MY FRIENDS. Well, at Montavilla's Rocket Empire Machine you can. Distance hang, that is.
Sponsored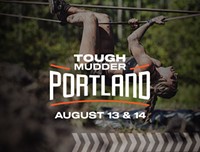 Lock in your summer adventure, Portland. Join us for world famous obstacles over a 5K or 10K distance.
Not only does the outdoor food hall have weather-absorbing tent canopies, but the collection of picnic tables beneath them surround a small, inviting fire pit that seems like just the thing for a safely-distanced crew hang. Rocket Empire just opened this past August and their outstanding patio-style is far from the most enticing thing they have to offer.
The top reason to visit Rocket Empire is quite plainly the curation of restaurants in place around the patio. For instance, there's Sea and River Sushi, a spot that serves up both inventive sushi—like their Hot Night Girl Roll (shrimp tempura, crab meat, and avocado with tuna and black tobiko eggs on top)—AND Burmese treats like fermented tea leaf salad. Oh wow! They have a Tea Leaf Roll. Guess I'm getting that next time.
Next door to them sits the hotly anticipated Alleamin African Kitchen of chef Khadro Abdi. Alleamin has long been a Hollywood Farmers Market star so eaters are excited to finally have access to all of Abdi's sauces and sambusas at brick and mortar hours.
Sweet and savory pie spot... Pie Spot also puts in a appearance with a cheerful walk-up window in the courtyard's corner. Though they're known for their smaller-sized "cupcake pies," they carry quiche, cinnamon rolls, and a darling five dollar pot pie.
Tierra del Sol
The thing that brought me out to NE 70th and Glisan was the tlayuda from Mexican-Oaxacan kitchen Tierra Del Sol. Their tlayuda is massive and comes in a pizza box, along with a suggestion to split it between two. A robust black bean spread sits beneath a bed of cabbage, onion, queso Oaxaca, queso fresco, cilantro, and sliced avocado. It's a beauty to look at and, in practice, sort of like super fresh nachos if there were only one massive chip underneath all the fixins. I loved it, but I should note that it's probably more of a summer dish. Plus, without a meat or veggie stew on top, the tlayuda came off a little dry.
The chicken mole would have been a good addition, as my friend's order of Mole Coloradito came out of the kitchen to jaw-dropping effect—juicy, buttery, and straight-up fall-apart tender.
"The server gave me a plastic spoon and I was like I don't think that's gonna work," he said as he sheared the chicken with the spoon's edge. "Boy, was I wrong."
Tierra del Sol, 6935 NE Glisan, (503) 998-9663, tierradelsolpdx.com
Gigantic Brewing
A major lynchpin of the Rocket Empire court is Gigantic, an eccentric micro-brewery with IPAs, a Kolsh called Koshtastic, and a rotating tap of experiments likely to keep many a beer-fancier intrigued. Fitting with my inappropriate attempts at having a summer afternoon snack, I tried on their Sassy Pony Juicey Pale, which worked for me on sourness levels without being overpowering.
Right now, COVID restrictions necessitate that you can only order a beer after you're seated at a particular table. This keeps the patio from taking on a crowded outdoor bar vibe. I frequently remind myself that it makes servers happier when you put on your mask before you stand up, so drinking standing up won't be possible at Robot Empire right now—unless you can drink through your mask. Gross. Don't do that.
My party and I didn't have a hard time finding a table on arrival, but as the afternoon wore on, I noticed the Gigantic bartender pointing out slightly damp tables outside the tented area as possibilities for people who wanted to have a beer, but couldn't find a seat.
Imagine how nice this place will be come vaccinated summer—with the sliding garage doors open and the smells spilling out into the night air. But for now, Robot Empire is a great a place to get a bite, have a beer, and safely-distance from friends.
Gigantic Brewing, 6935 NE Glisan, (503) 208-3951, giganticbrewing.com