Here's your daily roundup of all the latest local and national news. (Like our coverage? Please consider making a recurring contribution to the Mercury to keep it comin'!)
IN LOCAL NEWS:
Sponsored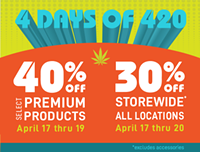 30-40% off Premier Dispensaries April 17-20
Flower, pre-rolls, edibles, carts and more.
These 4 Days of 420 are for you.
• Rep. Diego Hernandez, a Portland Democrat who has faced numerous accusations of workplace harassment and emotional abuse from female colleagues over the past year, officially resigned over the weekend—but plans to stay in office for well over a month, until March 31. How come? Apparently the Dems need his vote for upcoming bills they're hoping to push on to the Senate. [Insert side-eye emoji here.]
A monument to York, the enslaved Black man who traveled with Lewis and Clark, suddenly showed up in a Portland park last week. City leaders, acknowledging that they had no idea who put it there, said it looked great.https://t.co/ajs0XUCJ6S

— The New York Times (@nytimes) February 23, 2021
• Republican shitheels such as Senators Lindsay Graham and Capitol insurrection cheerleader Josh Hawley brought up last summer's Portland protests in today's Attorney General confirmation hearings, asking nominee Merrick Garland if he considered Portlanders' protests of the federal courthouse last year to be acts of domestic terrorism. Garland's nuanced response: "An attack on a courthouse while in operation, trying to prevent judges from trying cases, that plainly is domestic extremism, domestic terrorism. An attack simply on a government property at night or under other circumstances is a clear crime, and a serious one, and should be punished." Nice try, Republican shitheels.
• Oh, speaking of shitheels: There's been a shakeup in the leadership of the state GOP, which now will be leaning even further right (if that's possible) with the election of Sen. Dallas Heard who will now lead the Oregon Republican Party. You may remember Heard for giving a maskless, vitriolic speech against Gov. Brown's COVID-19 safety measures, calling them a "campaign against the people and the children of God." [Insert eye-rolling emoji here.]
More recently, Dallas Heard backed a group in his district called "Citizens Against Tyranny," which doxxed people—including senior citizens—who reported businesses that violated coronavirus restrictions. Heard is now the new Oregon Republican Party leader.https://t.co/RH5aOuQoLH

— Shane D. Kavanaugh (@shanedkavanaugh) February 21, 2021
• Booze and bubble tea: two great tastes that go together, or a weird, unnecessary mashup? Our Janey Wong tried 'em out and reports back in the latest edition of "Cocktail To-Go Club"!
IN NATIONAL NEWS:
• How about some good news first? The brainiacs at NASA held a press conference today in which they revealed verrrrrrry cool video of the Mars rover parachuting safely to the planet's surface from multiple angles, AS WELL AS the first audio ever recorded on Mar's surface! SCIENCE IS BACK, BAY-BEE!
Stop what you're doing and watch us land on Mars. This is the first time ever we've had this perspective. What a beautiful, special, absolutely astounding thing to have this footage. My god. pic.twitter.com/SqLgbexTyH

— Shannon Stirone 💀 (@shannonmstirone) February 22, 2021
The microphone was inspired by someone who was visually impaired. The sounds from Mars are to help people experience it. Love this, accessible Mars. @NASAPersevere pic.twitter.com/AyAl3keumY

— Lindy Elkins-Tanton (@ltelkins) February 22, 2021
• More good news... for us, that is! The Supreme Court has refused to step in and halt Trump's secretive tax returns from being turned over to a New York state prosecutor. In even better news (again, for us), the Supremes also refused to hear Trump's bullshit cries to overturn Pennsylvania's 2020 election results. The good news for Trump? Hmmm... not finding any. Which is even MORE good news for us!
• Bloviating buffoon (and shitheel!) Mike Lindell, owner of the MyPillow company and proponent of martial law, is being sued for $1.3 billion for allegedly defaming Dominion Voting Systems, who Lindell falsely claimed rigged the 2020 election.
An independent investigation finds Aurora Police did not have a basis to stop, frisk, or restrain Elijah McClain. The report also found, "EMS administered a ketamine dosage based on a grossly inaccurate and inflated estimate of Mr. McClain's size."https://t.co/boUoZGO63g

— Omar Jimenez (@OmarJimenez) February 22, 2021
• More on the confirmation hearings for Merrick Garland: The nominee for Attorney General promised that investigating the domestic terrorism attack of January 6 would be his top priority—and his DOJ would also be looking into the organizers, fund raisers, or ANYONE (looks hard at President Trump and Senators Lindsay Graham and Josh Hawley) who aided, abetted, or inspired the attackers.
• We knew it was coming, and it's here: The US has topped 500,000 COVID-related deaths, which if you can imagine, is the same number of people killed serving in World War II, Korea, and Vietnam combined, or the entire populations of these major American cities.
President Biden: "We will get through this, I promise you. But my heart aches for those of you who are going through it right now. May God bless you all, particularly those who have lost someone. God bless you."

— Kyle Griffin (@kylegriffin1) February 22, 2021
• Busy Bee Biden is changing the Paycheck Protection Program to help smaller and minority-owned businesses, while hitting the brakes on greedy, bigger companies by providing relief for businesses with 20 employees or less.
• Unlike certain Texas senators I could mention who fled the state when the power went out, Alexandria Ocasio-Cortez raised an astounding $5 million in 96 hours to aid desperate Texans trying to recover from last week's freeze.
Meghan McCain is calling on President Joe Biden to fire Dr. Fauci and replace him with someone who actually "does understand science" because she doesn't know when or how she'll be able to get the coronavirus vaccine https://t.co/Wo1ipfBVoC

February 22, 2021
• I'm tired of reading headlines like this (for a lot of reasons): "New York state father-to-be killed when gender reveal prop explodes."
• After 28 years, electronic band Daft Punk has broken up (a situation far more tragic than Kim and Kanye).
• Get ready to party HARD in the third installment of the Mercury Music Series, with a livestream concert from super fun Portland rapper/singer/producer FOUNTAINE, coming at ya on March 11! Snap up those tix, babies!
• Let the bells ring and the confetti fall! The HUMP! 2021 Film Festival is NOW STREAMING ONLINE, featuring an array of hot 'n' horny amateur dirty flicks submitted by hot people like YOU. Get your tickets pronto!
• And now... THE WEATHER REPORT: Possibility of showers tomorrow with a high around 47.
• And finally, this is what the pandemic is doing to us, guys!!!

BAKED BEAAANSS pic.twitter.com/KyhlBNThmA

— The God Tongue (@aprettyPR) February 21, 2021