One of my college roommates used to throw in the phrase "it is what it is" with mock seriousness at any opportunity he got. It became the type of (unfunny) inside joke where you roll your eyes but can't help but smile in spite of yourself. It sprang into my head the second I spotted the simply named "A Tequila Drink" at Bantam Tavern.
Sponsored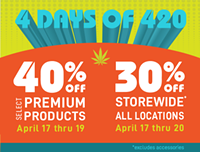 30-40% off Premier Dispensaries April 17-20
Flower, pre-rolls, edibles, carts and more.
These 4 Days of 420 are for you.
The cheeky straight-up-ness of the name had already sold me, but the list of ingredients definitely sealed the deal. The Tall Drink of Tequila combines Altos Plata, Combier d'Orange, guava and lime juice, orange flower water, and soda. I would've liked more of the guava to come through, especially since Bantam makes the guava syrup themselves. The drink's floral notes are nicely subtle, however, taking care not to venture into territory where you feel like you're drinking a perfume.
Along with "A Tequila Drink," three other double cocktails are available to-go; the foursome is a greatest hits snapshot of the wider cocktail menu. Folx can carry out an Old Fashioned on draft, a Hernandez that features an in-house orange infused (via sous vide!) gin, or a chai-infused rum punch. "We hoped these specialty ingredients were flavors that people missed from going out and could re-create the experience at home if they don't feel safe going out and just want to support their local spots," says bartender Claire Vander Heide.
Of course, Bantam's full cocktail menu can once again be enjoyed in-person. I love that the menu is divided into sections for quick reference: Strong, Not Too Sweet (my Tequila Drink falls into this category), Hot Drinks, and Egg Drinks. Boy, do I miss egg cocktails. I was wary of the raw topping for the longest time, but after I overcame my apprehension I couldn't get enough of them. Looking back on my pre-egg cocktail existence, it seems absurd, especially since I inhale sashimi like nobody's business.
The cocktail program is the legacy of departing bar manager Ollie Gahlsdorf, who had been with Bantam since it opened three years ago this October. The bar staff has a solid template to work with and will do some seasonal switch ups to the menu, but right now their focus is on the fluctuating conditions dictated by the pandemic. "It's really changed our industry," says Vander Heide. "The interesting thing about COVID is it really has made restaurants adapt, but I think its also created models that are going to last post-pandemic."
Bantam's cozy space features a rustic interior with dark wood furniture and exposed brick, with a built-in next to the bar housing a variety of volumes on bartending and cocktails. Outside, two large fire pits keep guests warm under the covered patio. Moving into the warmer months, Bantam will extend their patio into the adjoining parking lot to double their seating capacity.
The tavern's fare is just as sturdy and classic as its interior. Dishes like beer-battered fish & chips, meatloaf (in regular or sandwich form), and fried chicken are the pillars of the menu. Quality and craft is at the heart of the food and drink, served without a side of pretentiousness. "We have a neighborhood feel, where everyone always feels welcome," gushes Vander Heide, who was an admiring frequent at Bantam prior to her employment there. Whether patrons want to request a bespoke cocktail or are just looking for the bartender to slide them over a tall boy and a shot, Bantam wants everyone to feel comfortable and that they can have what'd they like.
Bantam Tavern, 922 NW 21st, (503) 274-9032, bantamtavern.com