Wraps get a bad rap. People push them for the wrong reasons (diets!), when they're just delightful inventions of ancient ingenuity aimed at packaging flavor and texture into manageable mouthfuls. What do you want in your wrap? What is that wrap made of? There are a lot of options!
Sponsored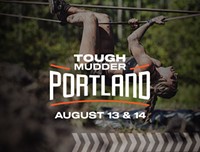 Lock in your summer adventure, Portland. Join us for world famous obstacles over a 5K or 10K distance.
This week's Takeout Club examines two food carts with wildly different wraps. What they have in common is that they're both serving up unique, delicious bites that we think you should snack on.
Portland's NW Thurman street has long been a destination for restaurants, shops, and easy access to Forest Park. And the Nob Hill Food Carts, located down the road from Food Front Co-op and St. Honoré Boulangerie, have grown into a great little spot to have a beer and enjoy an outdoor treat.
Situated as they are, between neighborhood houses, it's hard to imagine Nob pod will ever be the late night, street food destination of our dreams, but Bing Mi's jianbing crepe cart at least gives us a chance to try on a world-beloved Chinese street cart food.
Keeping it simple, Bing Mi serves up variations on the same dish: a crepe, folded into quarters, filled with goodies. It's easy to carry in your hand and perfectly portioned—somewhere between a snack and meal.
A standard jianbing comes with egg, chili sauce (no spice is an option), pickled vegetables, green onion, and crunchy wonton crackers (inside!). Those wonton crackers are a dream come true. Long have I ordered sandwiches and then disassembled the prepared creation to add chips inside. The jianbing is the perfect solution to those seeking a little crunch at the heart of their wrap.
One glance at the menu will you tell you this cart is all about customization. In my experience, the jianbing only grows in deliciousness with the addition of more eggs—same for pickled vegetables. Whether you can wrap your hands around a jianbing with extra wonton crackers probably depends on your personal hand dexterity, but I think you should try it.
There's no real need for meat on the jianbing, but bacon, smoked sausage, or Chinese sausage all work on it—in a breakfast burrito sort of way. There's also duck on the menu, if you have a taste for such a rich delight. Probably finding the right jianbing combination—for you—calls for a little trial and error, so you'll want to start putting these delightful crepes in your mouth as soon as possible.
Bing Mi, 1845 NW 23rd Pl, (971) 930-2968, bingmipdx.com
Perhaps you already know about the Scandinavian soul food cart on SE Belmont, in the Bite On Belmont food cart pod. The potato flatbread that comes out of Viking Soul Food's airstream trailer is hard to compare to anything other than other lefse. It's thinner than a tortilla, but softer than the crisp edges that crepe batter creates. I also find it to be more delicate than flatbread you buy at the grocery store, perhaps because the cart makes it fresh every day. What we can say for sure is that all the wraps at Viking Soul Food are next level tasty.
The smoked salmon—wrapped up with pickled shallots, dill creme fraiche, and fresh greens—is my personal favorite savory option, but don't overlook the sweet wraps. The lingonberry wrap perfectly balances rich cream cheese and the eclectic sweet and sour taste of Viking Soul Food's lingonberry jam.
Like a jianbing, the lefse wraps at Viking Soul Food exist somewhere between snack and meal sizes. One isn't really dinner. Two seems a little ambitious for one belly. Luckily, Viking Soul Food offers number of side dishes to supplement their menu. I am WILD about their pickled eggs, which come artfully garnished with dill and caviar. And if you really fall for lefse, Viking Soul Food also offers larger packages of the stuff for all the wraps you make at home.
Viking Soul Food, 4255 SE Belmont, (971) 506-5579, vikingsoulfood.com