When it comes to making a bagel expressly New York style, Scott Cruthers has some notes: "A lot of people say it's the water, but it's not the water—it's what you put in the water," he says.
Sponsored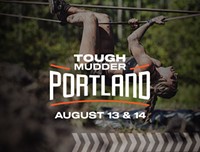 Lock in your summer adventure, Portland. Join us for world famous obstacles over a 5K or 10K distance.
His Northwest Portland shop, Bentley's Bagels, boils their dough in that water, then bakes it on cedar planks before flipping it to a hot oven stone. It's a method that leads to a shiny, crispy crust on the outside and chewy—but airy—texture on the inside.
The bagels on offer at Bentley's are, in Cruthers' words, "traditional." He's uninterested in adapting the recipe for vegan or gluten-free bagel fans and won't even consider outside-the-box bagel flavors like blueberry. "Cream cheese is where you get creative," Cruthers says, in a determined tone. And I must tip my hat to Bentley's in-house crafted maple bacon cream cheese, which was a joy of sweet, savory, and generously portioned pieces of crispy bacon.
A self-described ex-New Yorker, Cruthers speaks with a heavy, but not impenetrable accent that lends a level of credulity to his quest to provide Portlanders with the closest approximation of a New York bagel they could hope to nosh upon.
"When we moved here," Cruthers says, "I had Kettleman's Bagels and I had Escape From New York Pizza, so I was pretty happy." But after Einstein Bros. bought Kettleman's in 2011, Cruthers and his wife Sara started experimenting on their own bagels. This endeavor not only resulted in their bagel recipe, but also the incident that gave the shop its name.
"When we first started making the bagels from home," Cruthers says, "We ate a couple and we left the others on our table. There should have been four bagels left, but when we came back there were none." They all went into the couple's 125 lb Bernese Mountain Dog, Bentley. So when the time came to name their fledging bagel start-up, they figured: "Well, he thinks they're his."
Bentley's Bagels were only open in their brick and mortar spot for a few months before the pandemic hit, but Cruthers thinks they're lucky their product lends itself to grab and go. "We scrambled to find an online system," he says, noting that theirs is a little rudimentary: At this time, you can only order whole bagels and containers of cream cheese online and the pick-up time is a general morning window the next day. But walk-in customers have access to the whole menu, including coffee, schmears, and sandwiches.
On a recent weekend morning, Bentley's boasted a short line under a rain awning. The person in front of me had an online order, but then added a bunch of breakfast sandwiches at the counter—for understandable reasons. Various neighborhood faces stood outside, privy to some secret code that got them curbside pick-up service. Cruthers explains this as simply him noticing regulars and bringing their orders out. "We were so lucky to end up in this neighborhood," he says. "We wouldn't be thriving without the people around us. And we want to be a integral part of the neighborhood since the plan is to be here for a long time."
Bentley's Bagels, 918 NW 21st, (971) 302-7019, bentleysbagels.com