Mayor Ted Wheeler plans on asking his fellow city council members to okay $1.7 million in emergency city funds to immediately re-establish a police patrol similar to the dissolved Gun Violence Prevention Team (GVRT).
Sponsored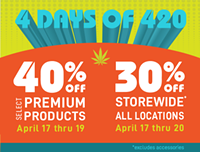 30-40% off Premier Dispensaries April 17-20
Flower, pre-rolls, edibles, carts and more.
These 4 Days of 420 are for you.
In a proposal sent to Wheeler's office by the Portland Police Bureau (PPB), Assistant Chief Jami Resch (who had a brief stint as PPB chief in early 2020) suggested the team be comprised of 12 police officers and two sergeants, and be assisted by 5 detectives focused on gun violence crimes. These positions would be filled by reassigning current PPB officers and rehiring recently retired officers.
The ask would cost the city $1.7 million to fund for the reminding fiscal year, which concludes at the end of June. Resch estimates that the program would cost an additional $6 million to include in PPB's 2021-2022 fiscal year budget, which begins July 1.
Resch explains the new unit would "act on criminal intelligence gained in investigations, conduct follow-up for shooting investigations, respond to shooting scenes, and proactively engage community members at risk of gun violence."
The only clear difference between this requested patrol unit and the former GVRT is that it would come with "enhanced reporting and accountability measures." Portland City Council voted to disband GVRT in June 2020 after a city audit found the team disproportionately surveilled and targeted Black Portlanders. The decision also coincided with Portland's protests for racial justice, a movement that encouraged City Council to defund several other PPB units.
The proposed accountability measures promised in this new PPB unit sound similar to bureau-wide oversight programs already in place. Specifically, PPB would "convene a stakeholder group" to improve the patrol team's impacts on communities of color and promote community support of the program. Resch's proposal also suggests the new team collect demographic and incident-related data on the people they come in contact with. This is the same kind of data that the GVRT was expected to collect in the past—but failed to.
Jim Middaugh, a spokesperson for Wheeler's office, says Wheeler plans on asking City Council to approve $2 million to back this renewed program and other gun violence prevention work that can't be put off until the city's new budget cycle, which starts July 1.
Wheeler suggests taking that $2 million from the city's "stability reserve" budget fund—a bucket of public dollars set aside last June to buffer the city against the anticipated revenue decline created by COVID-19. That reserve currently holds a balance of $6.3 million, according to the mayor's office.
This proposed patrol team would be independent of another recently-announced PPB unit, the Enhanced Community Safety Team (ECST). The ECST, proposed by PPB in February, is a 24/7 on-call team meant to investigate gun crimes and responding to gun-related 911 calls. The ECST has already begun working on the ground, and is made up of three sergeants, six detectives, and 12 officers.
A sliver of Wheeler's $2 million funding ask would go toward backing the ECST, and another portion would go towards community outreach programs and trauma support within the city's Office of Violence Prevention.
The emergency budget ask doesn't just come from the police bureau. The total package was presented as a recommendation to City Council by the Inter-Faith Peace & Action Collaborative, a group of religious leaders that formed in 2016 to address gun violence in Portland, which disproportionately impacts communities of color. The group is led by J.W. Matt Hennessee, a senior pastor at Vancouver Avenue First Baptist Church who opposed the city's decision to dissolve the GVRT in 2020. Henneesee also made headlines in 2005 after an Oregonian investigation discovered records of him confessing to sexually abusing an 12-year-old girl.
In a letter sent to Portland City Council Thursday, Hennessee wrote:
"We recognize your immediate need to address serious concerns about racial justice... We acknowledge the serious reforms and major changes that need to occur in policing. However, we also believe defunding the Police Bureau without replacement programs and interventions caused a vacuum and put any people at risk and caused others to assume there was no accountability."
This proposal follows a significant citywide surge in gun violence. In 2020, Portland saw nearly 900 shootings—more than double recorded the previous year—and 41 shooting-related deaths. About half of those killed were people of color. This uptick began in late 2019, before the COVID-19 pandemic began, but criminologists say the anxieties brought out by the pandemic could have contributed to the surge. It's not a Portland-specific issue: National data shows gun violence increased by more than 50 percent in at least a dozen cities last year.
Wheeler's faced intense criticism around the city's response to the surge in gun violence, both from those like Hennessee who believe that the GVRT could have helped prevent 2020's bloodshed and others who say PPB is still unfairly targeting the city's small Black community.
It's not clear what date Wheeler will present this request to council, but Middaugh said it's a top priority.
Wheeler's colleagues on City Council are seeking more information on the proposal before it moves forward. City Commissioner Jo Ann Hardesty led the city's work to disband the GVRT in 2020 and has remained skeptical of PPB's plans to replace it. In a statement sent to the Mercury Thursday afternoon, Hardesty said:
"I'm not prepared to comment on this specific proposal at this time but I look forward to learning more as well as hearing other community proposals and deliberating any corresponding financial requests during the budget process."