To-go nachos are a crapshoot. When you order nachos at a restaurant, for dine-in, they're presented with ceremony: A lustrous tower of chips, cheese, and other delights. Dangerous pockets of jalapeño lay undiscovered. Everyone at the table holds hands, looking one another in the eye with determined gaze, like:
We're in this together.
Sponsored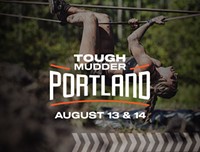 Lock in your summer adventure, Portland. Join us for world famous obstacles over a 5K or 10K distance.
But when nachos are unveiled in the comfort of one's home, you so often find that the cook didn't put much effort into the gorgeous obstacle course of danger and desire that is nachos. Or maybe they did, but the nachos didn't survive the trip—shifting, sliding, and cooling into what is merely cold greasy chips.
So it is my pleasure to inform you that Northwest Portland's Papi Chulo's layers the cheese all the way through. And if you are a nachos person, that already tells you much of what you needed to know. These nachos are GOOD.
By all rights, Papi Chulo's should be much better known. But their brightly-tiled, open-garage-door front is hidden behind a big tent they erected on NW 13th, to accommodate outdoor dining. Like many restaurants that opened shortly before the pandemic hit, they've held on with grit and deliciousness.
Under pre-2020 circumstances, this lively taqueria would have been straight-up crammed at lunch hour. NW 13th used to have a reputation as a busy, snacky-as-all-heck thoroughfare for the downtown office worker population. Still, on the rainy day I stopped by, Papi Chulo's was looking pretty popular. I was about six people back in a distanced line, checking out the murals—e.g. a large Corona bottle between beautifully-lettered phrases "Hola Papi" and "Adios Thirsty"—which work not only to call on the feeling of Mexican restaurant signage, but also the typographical tastes of the area's nearby graphic design agencies.
Though delivery from Papi Chulo's is available via a number of the apps, takeout appears to be call-in. My nachos and birra were ready when I arrived, but I waited in the line to pay for them. The nachos were a perfect monster of beans, sour cream, tomatoes, chives, and layers of cheese. In their most basic state—without the addition of proteins like slow cooked pork or grilled shrimp—they rang in at an unheard-of $6.50. The birria—Papi Chulo's serves this up as two crispy tacos and a delicious beef stew to dip them in—only set me back $10. Both struck me as steals for the pricey neighborhood and quality of food.
I look forward to the soon-approaching day when I'll feel comfortable enough to enjoy a taco at the teal tile counter—which will doubtlessly fill up with people taking food photos set against the lovely color. It seems like the ideal place to unwind with a beer, dip your tacos, and dismantle your nachos.
Papi Chulo's, 611 NW 13th, (503) 206-6085, papichulospdx.com