Toki PDX, the new vision from Han Oak's Peter Cho and Sun Young Park, recently took over the Tasty and Alder spot on SW 12th. They've been serving up to-go brunch on weekends, offering items like pork belly breakfast sandwiches served on bao buns (fluffy, steamed buns) and boxes of doughnuts covered in passion fruit or blood orange glaze.
Sponsored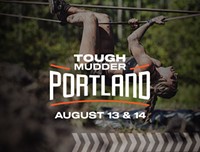 Lock in your summer adventure, Portland. Join us for world famous obstacles over a 5K or 10K distance.
But on a cold, rainy Portland day, what I really wanted was something from Toki PDX's dinner menu—a gigantic order of buldak-ra-bboki. That translates to a half bird of spicy fried chicken over a thick bed of mozzarella, topping a glorious, glutinous choir of ramen noodles and spongy rice cakes sopping up super hot gochujang sauce. It's basically the most comforting dish in the world.
The little rice cakes are the size and consistency of mini sausages and the longer you leave them in their flavorful soup, the better they become. The perfectly melted mozzarella cools to a nearly solid crust, which can easily be re-softened with a little heat applied to its metal to-go tin OR you can hack it apart and get out some aggression. It tastes great either way.
Toki's dinner menu has many other wonders to show you. There's the Gim-bap Supreme—made as a loving homage to the Taco Bell Crunchwrap Supreme—which rolls fried nori and a rainbow of vegetables into a delightful crunchwrap-sized handroll.
Whatever you order, don't skimp on the banchan side dishes or the soup and rice—which you can add for $9. The three neatly packaged side dishes were my favorite part of the meal. This is especially true of the curried potato salad, which I savored throughout, trying to identify what spices (certainly mustard is involved) made it so awesome. The same can be said for the soup: A noodle-less broth with seaweed that was so full of flavor I sipped it like a Dickensian orphan.
As Toki is—at this time—a hundred percent to-go, they've obviously given great thought and care to the way their food goes out into the world and into the bellies of their customers. The dishes that made it over from Han Oak are the sturdier ones: fried chicken, dumplings, and hot ramen.
Han Oak paused their kitchen just before the New Year, to better focus on Toki, but they've been dropping hints about offering distanced in-person dining soon. Toki offers both delivery and takeout through their site.
Toki, 580 SW 12th, (503) 312-3037, tokipdx.com