We need your help. The economic fallout of the coronavirus crisis is threatening our ability to keep producing the quality reporting you've come to love. If you're able, please consider making a monthly contribution to the Mercury.
GOOD MORNING, PORTLAND! We're apart, I feel it too. And no matter what I do, I feel the pain with or without you. LET'S GO TO PRESS.
Sponsored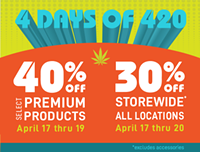 30-40% off Premier Dispensaries April 17-20
Flower, pre-rolls, edibles, carts and more.
These 4 Days of 420 are for you.
• The Portland School Board has approved what was a tentative agreement between teachers and PPS to get kids back to in-class learning after spring break—though there was a minor dust-up over whether children must remain six feet from each other or three feet (which scientists are beginning to say is acceptable and safe). However, changing the agreement would throw the reopening day back weeks, and thus it was approved.
Portland school board approves compromise w/ teachers union to get students back for face-to-face teaching. Most board members say they're resigned to a deal w/ scant hours of live instruction, given the power of the teachers union, reports @EderCampuzano https://t.co/Hdy17WR4hQ

— Oregonian Ed Team (@chalkup) March 19, 2021
• The family of Kevin Peterson Jr.—the Black man shot in the back a whopping 34 times by Clark County cops during a sketchy drug sting five months ago—is planning on suing Clark County, following gross, disparaging remarks made by District Court Judge Darvin Zimmerman.
• TODAY'S MUST LISTEN: Do not miss local activist @javscatte's wildly smart takedown of Mayor Wheeler during a forum on how to deal with vandalism in Portland. SO... GOOD!

Javier: https://t.co/WJ8sA9qCHd

— Jake (he/him) (@JakeDockter) March 19, 2021
• Today in "Right On Brand": State legislators began the debate on what type of punishment should be leveled against chickenshit GOP members who walk out of the legislature every time there's a vote on something they don't agree with... BUT! These same GOP members were too chickenshit to even show up and defend themselves. BAWK! BAWK! BAWK!
This week, we at OPB are grieving the loss of our beloved colleague & friend, one of my mentors, Beth Hyams. She died last week.
I love Beth, & I miss her terribly. Please listen to our remembrance & celebration of our wonderful friend, at 7:45am on @OPB. https://t.co/jj6GlWkmOs

— Jenn Chávez (@portable_chavez) March 19, 2021
IN NATIONAL NEWS:
• Today President Biden and Veep Kamala Harris—the first woman of South Asian descent to hold the office—will visit Atlanta today to console and grieve with the community who lost six Asian women brutally murdered by a white man. Here's where you can learn more about the victims. Meanwhile Asian groups from around the nation are organizing to raise awareness of hate crimes against their community while offering support and empowering those afflicted by it. "Our folks are pissed off and ready to fight," said Mohan Seshadri, Asian Pacific Islander Political Alliance co-executive director. "The way we get through this is together by organizing our people and feeling solidarity."
• Remember our earlier "local news" item about the Portland School Board approving the teacher/PPS agreement that included keeping kids six feet apart, but they were afraid that the CDC would release an advisory that kids could be as close as three feet? This just in: "CDC relaxes distance requirements in schools from 6 to 3 feet." (Saaaaad trommmmboooooone.)
The first high-level U.S.-China meeting of the Biden administration got off to a fiery start, with both sides leveling sharp rebukes of each other's policies in a rare public display that underscored the level of bilateral tension https://t.co/KisMNQiXn3

— Reuters (@Reuters) March 19, 2021
• GOOD VACCINE NEWS: Busy Bee Biden says the US will hit their goal of 100 million people vaccinated by today, weeks ahead of his original goal. Also the administration announced it will be sending millions of doses of the AstraZeneca vaccine to Canada and Mexico (both out of niceness and to influence Mexico to assist the administration with our current border crisis).
• In the George Floyd case, the judge has denied a motion from former Officer Derek Chauvin's defense team to delay or move the trial following concerns that a local jury couldn't be impartial. (Apparently the defense team hasn't been reading any national newspapers for the past year.)
• The FBI has released 10 new videos showing the "most egregious attacks" on officers by Trump's domestic terrorists during the January 6 Capitol attack, hoping that members of the public will help identify them.
•  The House has approved a bill that would give legal status to around two million "Dreamers" who were brought to the US by migrant parents as children. Once again, House Republicans hated the idea, and it faces an uphill battle in the Senate. Of course, KILLING THE FUCKING FILIBUSTER is always an option.
#Space | It took over a decade and 1,000 hours of photography to create this picture of the #MilkyWay https://t.co/6uNpfkEB9Z

By @pabsgill pic.twitter.com/kXYtSmfk0y

— Business Insider India🇮🇳 (@BiIndia) March 18, 2021
• HELLO, STONERS! You will be pleased to know that SPLIFF—the short flick film festival about cannabis and all things "stoned"—is kicking off April 16-24 and you can get your tickets NOW. (So hurry up before you forget... because you know you will.)
• And now... THE WEATHER REPORT: Mostly cloudy today with scattered showers and high of 53!
• And finally... yes, queen, yes.

Menuda reina pic.twitter.com/XifNHi1fUp

— Cloud 🏳️‍🌈 (@Cloud_81) March 18, 2021