Writer's note: If you're in a position to buy groceries and/or eat "out" right now, please support AAPI businesses at this time. I especially encourage making the effort to seek out and patronize the mom & pops. Places that don't have a social media presence are often overlooked and are the ones that could use the most love. As a starting point, check out this oldie but goodie guide to Portland-area Asian grocery stores by Sam Bakall.
Sponsored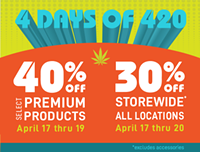 30-40% off Premier Dispensaries April 17-20
Flower, pre-rolls, edibles, carts and more.
These 4 Days of 420 are for you.
A good portion of the cocktail menu at Old Town's Buranko relies on another beverage—tea—as its base. The Japanese/Korean/Thai-inspired café also likes to play with color, with creations like the "Pinkitini" and the purple-hued "Butterfly Pea Toddy" and "Midnight Mimosa." Set against the backdrop of their light and plant filled space, the drinks are positively Instagram-worthy. Millennial heaven.
Owner Krittapee Yodsanit tapped a San Francisco bartender to collaborate on the cocktail menu, and says their "Tamarind Margarita" is a crowd-favorite. The syrup is imported from Thailand, and lends a tangy boost of flavor to a traditional marg.
I went with the green part of the rainbow, represented by the "Kyoto Fog," a clever play on a London Fog. The cocktail version of a tea latté, Buranko mixes Monopolowa vodka, matcha powder, soy milk, vanilla, nutmeg, marshmallow. I LOVE this concept, but it fell a smidge flat in the execution. Matcha has a notably delicate flavor, so the Bailey's unavoidably overpowers it. The results still made for an enjoyable drink, but perhaps the tea vibes they were aiming for could be brought more to the forefront with some minor tinkering with measurements.
Buranko is the sister restaurant to Phat Cart, another modern Asian-fusion restaurant across downtown. I visited on a day where our capricious spring weather decided to take a turn toward the cool and rainy, so I was easily tempted by one of the café's seasonal specials—the "Million Dollar Tom Kha Ramen," which was packed with shrimp. My milky "Kyoto Fog" ended up being a nice temper to the wonderfully spicy and sour comfort food dish.
Pro-tip: when ordering noodle soups for takeout ALWAYS ask for the broth to be packaged separately. Most places will do this by default, but it's a good "special instruction" to give just in case… you don't want to arrive home and have paid good money to eat a soggy mess.
Yodsanit opened Buranko across from Pine Street Market shortly before COVID hit, and he just wants Portlanders to know that they're here. Downtown businesses have arguably taken the worst economic hit as a result of the pandemic, and Yodsanit is hopeful that traffic will start to pick up again soon not only for him, but surrounding restaurants.
Buranko, 108 SW Pine, (503) 241-2691, burankopdx.com