Irish whiskey label Kilbeggan has partnered with local bars in Portland to create cocktail specials as part of a month-long St. Patrick's celebration they're calling
The Kilbeggan March
. The March 2020 arrival of the pandemic in the U.S. brought St. Patrick's events to a grinding halt, so this year many bars and restaurants wanted to do something extra special.
Sponsored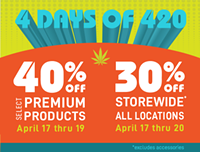 30-40% off Premier Dispensaries April 17-20
Flower, pre-rolls, edibles, carts and more.
These 4 Days of 420 are for you.
At Haymaker Bar & Eatery, co-owners Dave Bertelo and Nick Brown have created a cozy neighborhood hangout complete with a lot of repurposed fixtures with stories behind them. Lane dividers from torn-down bowling alley Interstate Lanes have been given new life as a pair of tables in the bar's living room-esque nook. The place oozes café vibes but instead of coffee, it's booze on the menu. You're definitely invited to stay a while, especially with touches like USB ports for charging your phone built in under the bar.
The clientele stems largely from the neighborhood as well. "Over half of our customers probably could walk here. We've priced ourselves for people to be able to come one or twice a week, and not be a place where you come once on your birthday," Bertelo says. As we chat, he nods over at a patron nursing a drink—"He's been here everyday," he says with a laugh.
The North Portland watering hole has an impressive list of over 100 whisk(e)ys, so they know a thing or two about it. For the Kilbeggan March, the bar went all out, creating not one but three special cocktails featuring Kilbeggan's double distilled blended whiskey. "Ya Big Teaz" is a classic highball-type cocktail featuring Kilbeggan Original, Peychaud's bitters, and locally-made Ruzzo Sparkling Hard Citrus Teaz. The "Dossier" has the spirit of an Irish coffee but instead pairs hot chocolate with Kilbeggan Original, house spice mix, and whipped cream. Finally, "The Legendary" gets a little fancy with Kilbeggan Original, Frangelico, housemade marionberry syrup, lemon juice, egg white, and Angostura bitters.
The cocktails draw on some sweeter and brighter flavors, making them good entry points for those who typically shy away from whiskey. Peak freshness is the name of the game at Haymaker; cocktails with juice in them are juiced to order. A manual citrus press sits at the ready atop the bar, while a planter box full of herbs behind it says "I got your farm to table right here!"
As for the regular cocktail menu, a list of classics has been condensed down greatly from a formerly full book of pre-prohibition drinks. Haymaker prefers to spend time with guests and serve them in person, but will gladly fix a cocktail to-go if you call it in or stop by.
The "March" takes on additional meaning as this month marks a full year of atypical operation. Bertelo emphasizes that restaurants were largely treated as a monolith, with consideration and adequate support not being given to establishments with varying models. "Restaurants are like battleships; they don't turn around on a dime. There's a lot that has to happen to do some of these changes. That was the difficulty in the first shutdown and everything after… we kept being asked to completely reinvent a business model in a couple hours," he says.
Bertelo and Brown also took ownership of Old Portland institution Nick's Famous Coney Island in 2019. The pair is dedicated to preserving the hot dog joint, using the downtime of the pandemic to give the walls a fresh coat of paint and making a point to match the original color. Projects that were on the back burner at Haymaker were also able to get the time and attention they needed—the bar recently got a slushie machine and patio redesign just in time for the return of warmer temperatures and outdoor dining.
Haymaker Bar & Eatery, 1233 N Killingsworth, (503) 384-2698, haymakerportland.com