Tucked into the parking lot of a Sellwood self-service car wash sits a truly delicious food cart serving up dishes that draw from both West African and Southern cuisines. Calabash Authentic just recently opened this past January, but word of their flavorful stews—many of which are easily made vegan—hit my ears soon after.
Sponsored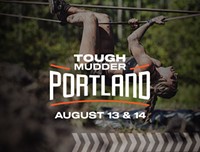 Lock in your summer adventure, Portland. Join us for world famous obstacles over a 5K or 10K distance.
Can people feel this strongly about stew? Yes, they can and, yes, they're correct. There's something extra special about Calabash Authentic.
Madeleine and Julius Temple make up the mother/son team behind Calabash Authentic, but the family's recipes reflect at least three generations of simmering prowess. Madeleine and her grandmother Violet taught Julius to cook in their family kitchen. "All their mannerisms, I picked up," Julius Temple says with a glow. "I like to put my own little flair on it, but I stay true to the family recipes."
Temple recalls, when they all still lived in the West African country of Sierra Leone, the way the community showed up for his mother's meals. "We had a big yard, and all my friends, all my cousins, all my cousins friends, and all their friends came to the house to eat."
Madeleine Temple moved to Portland before her son and quickly got involved in the area's African community. "When they had African functions—weddings, parties—she would make them food. Just out of love," Julius Temple says. "It went from there to me saying 'Mom, maybe we should combine our experience and do this for real.'"
What started as a catering company eventually branched out to the new little food truck in Sellwood where the Calabash Signature Stew tops a short list of menu items. The Signature Stew is a thick, filling mélange of tomato, peppers, and a generous quantity of meat. It's savory, comforting, and seasoned without being spicy. I heartily recommend the coconut or jollof rice, but even if you go with white, the stew's rich flavor is bound to balance it out.
On the weekends the cart often tries out different specials. You might find Egusi Soup with fufu—a puffy ball of dough that is generally made from plantains or cassava. Fufu is cool because you tear off little sections and mold them into bite-sized bowls for the soup so you can scoop it up and taste both flavors together.
Much of the cart's Southern approach comes from Julius' love for Southern cooking. They offer an impressive BBQ Favs Plate that comes with mac-n-cheese, collard greens, and a choice between pulled pork or ribs.
Calabash also makes their own fizzy, nonalcoholic ginger beer and there's a chance of catching off-menu snacks displayed in the cart's window. On a recent trip, I scored three coconut cakes for $5. They were perfectly crisp—potentially a little dry, but I ate them with alternating bites of stew so my taste buds bounced between savory richness, and sweet crunch.
Calabash Authentic, 8064 SE 17th, (503) 501-0448, calabashauthentic.com
Sponsored
Virtual Auction Event & Drag Queen Fashion Show. You won't want to miss this show!