Aside from the iconic Alibi (which makes for a very different night out), Hale Pele is *the* tiki destination in Portland. While the city had a fleeting reunion with tiki titan Trader Vic's 2.0 in the 2010s (the O.G. Vic's was the bar in residence at the Benson from the '50s through the '90s), I will always prefer the atmosphere of a local operation to a manufactured chain restaurant. There are so many sensory delights at Hale Pele that are missed right now, from the tiki tchotchkes and volcano sound effects to, of course, drinks being lit on fire. Note: Please don't try that at home, kids. For now, customers (both picking up pre-orders and walk-ups) are met at the door by general manager and bartender Paddy Holland who provides some takeout ambiance in the form of his tropical attire.
Sponsored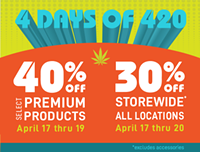 30-40% off Premier Dispensaries April 17-20
Flower, pre-rolls, edibles, carts and more.
These 4 Days of 420 are for you.
Hale Pele's cocktails to-go menu is about a third of what it is during normal operation, which in some ways is a bit of a relief since every single drink sounds good and I can find myself getting overwhelmed when presented with too many options (yes, there is such a thing). I went for one of the current specials, the "Forgotten Float." The "Float" is super tiki-tastic with fresh lemon and pineapple juices, passion fruit, banana liqueur, whiskey, and Plantation O.F.T.D. rum. It has a well-rounded body to it that I think comes from the banana liqueur. P.S. The other specials are the tiki classic "Puka Punch" and a Holland original, the "Sanguine Heart," which will only stick around until the end of blood orange season. Read: not that much longer.
When adding the requisite food item to my order, there was no way I was going to go with anything other than Hale Pele's signature grilled Hawaiian bread. The humble dish is served with a guava jam containing house-made ginger syrup and it's downright addictive. Crispy-crunchy, buttery, sweet and salty... it's not to be missed. And don't wait 'til you get home to eat it either; the bread is served hot and you're going to want to enjoy it at peak crunchiness.
For around the price of a ready-to-drink cocktail, customers can also choose from four cocktail mixes. The 16 ounce bottles contain six servings, so you really get a bang for your buck if you have a home bar stocked with liquor. I tried out the "Saturn Mix," which despite having some ingredient overlap with the "Float," was a completely different taste experience. The mix contains lemon juice, passion fruit syrup, orgeat, and tropical drink staple falernum. The menu suggests finishing it off with gin, but Holland shares with me that vodka or a light rum would also work well. If you're up for a fun experiment and possibly a hangover, try all three! (And let me know the results.)
At the back of the bottle, a label conveniently lists out ingredients in case you forget what you ordered and also has very precise, idiot-proof directions on how to serve. You might not be able to fry an egg without burning it, but you can damn well mix a Hale Pele cocktail. Which reminds me to remind you—DO NOT forget to secure the bag. The bag being one that contains that good, good crushed ice. It can and should be added to any cocktail order for a dollar. "That's the right way to do a lot of these drinks," says Holland. If you really want to go all out, there are also tiki mugs available in the web shop.
As a bar known more for their fun libations than their food, Hale Pele was dormant throughout the shutdown until cocktails to-go were approved. The bar is a tropical vacation in our rain-drenched corner of the world, and I'm very glad it did not become a casualty of the shutdown. They're coming up on 10 years next year, hopefully the first of many decades.
The staff has very understandably decided to stick to a takeout model until they are all able to get vaccinated. "It's been very nice that people have been paying attention and have been sensitive to [what the restaurant industry is going through]. It's been a good testament to the human spirit," says Holland. He expresses his deep gratitude for Hale Pele's supporters, especially their fiercely loyal regulars. Holland also shares that the bar will likely continue offering cocktails to-go even as they eventually transition back to dine-in.
Hale Pele, 2733 NE Broadway, (503) 662-8454, halepele.com