A trip to Tokyo Sando used to mean a little bit of a jaunt to the SW 4th food cart pod by Portland State University. So I'm pleased as punch that Tokyo Sando recently moved closer to downtown—they just reopened on Fri March 19th!—and into the burgeoning line of food carts on SW 2nd at SW Harvey Milk.
Sponsored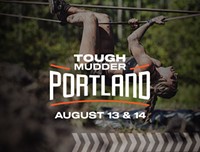 Lock in your summer adventure, Portland. Join us for world famous obstacles over a 5K or 10K distance.
A husband and wife cart run by Taiki and Andrea Nakajima, Tokyo Sando presents beautiful and delicious little sandwiches made in loving homage to the great convenience store sandwiches—Japan famously has far superior convenience food to the US—that they used to be able to grab to-go in Tokyo.
Japanese sandwiches aren't all that different from what John Montagu, the 4th Earl of Sandwich, intended. The bread tends towards light, fluffy, and sweet (think Wonder Bread, but better). The ingredients lean umami, with miso sauce generously applied to fried chicken and crunchy cabbage.
Fans of spicy mayo (sriracha and mayonnaise) will be happy to see that there's yet another vehicle for it in this world. Both the pork and chicken Katsu Sando (breaded, fried cutlets with cabbage, and brown mustard) are great with a little spicy mayo added on. It provides a welcome kick—but, given the polarizing quality of mayonnaise, it's nice that the sandwich is customizable. Sandwiches come properly sauced so grab a napkin!
For the vegans (perk up, vegans!) there's also tofu and fried eggplant sandwiches on the menu. Fried eggplant is one of life's great gifts and you really don't have to be vegan to enjoy it. The eggplant tends to sell out swiftly, but it's pretty easy to get in early with a preorder on their Square site. [Note: Right now, Tokyo Sando is only accepting orders through their site, but once they're more comfortable with the new cart / kitchen they'll return to in-person.]
For those who demand even more fried chicken to go with their fried chicken (ALWAYS), may I suggest a side of Karaage? These are little chicken morsels that were marinated before being breaded and fried—giving them an explosion of flavor with every bite. Tokyo Sando suggests adding their house made lemon sauce to the Karaage, but I thought it dampened the crispiness.
The main item people lose their cool for at Tokyo Sando is the egg salad. The cart makes their Egg Salad Sandos with half moons of soft-boiled eggs lined up in neat rows between that fluffy, sweet bread. A mash of eggs, mayo, and Dijon mustard cements the two forces together. It's a gorgeous sandwich and in high demand, but if you snag one they're such a delightful egg treat.
Tokyo Sando, 321 SW 2nd, (971) 254-3744, tokyosando.com