We need your help. The economic fallout of the coronavirus crisis is threatening our ability to keep producing the quality reporting you've come to love. If you're able, please consider making a monthly contribution to the Mercury.
Sponsored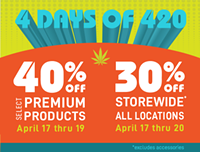 30-40% off Premier Dispensaries April 17-20
Flower, pre-rolls, edibles, carts and more.
These 4 Days of 420 are for you.
Good morning, Portland! It's going to be another beautiful spring day in the Rose City, with temperatures in the low-60s. But, don't let the birds singing outside invalidate your own personal dread! Susan Orlean is here to remind you that we're all running on empty tanks: "I feel like I'm in quicksand," Orlean told the NYT. "I'm just so exhausted all the time. I'm doing so much less than I normally do... but I am accomplishing way less. It's like a whole new math. I have more time and fewer obligations, yet I'm getting so much less done."
We're all in this together, or whatever. Now, the news:
——————-
- A tiny helicopter has safely landed on Mars, and now will begin a series of tiny experiments to determine whether flight is possible on a planet with no atmosphere.
- Inmates at St. Louis' jail protested their slow-moving—or seemingly inexistent—trial dates during COVID-19 Sunday evening by breaking windows and setting fires, some shouting "We want court dates" and "Help us" at bystanders. The Sunday night uprising is the third time since December that St. Louis inmates have rioted over their treatment.
- A US Capitol Police officer was killed and another injured when a driver rammed his car into a barricade outside the Capitol Friday. The attack, which comes a few months after Trump supporters overran the building—leading to the death of two officers—has only further pushed the law enforcement body into crisis mode.
- Today in sports news:

big fan of the dodgers' new outfielder. he has a lot of hustle. pic.twitter.com/kTV00PhRYE

— Lana Berry (@Lana) April 3, 2021
- More sports news: The Stanford women's basketball team dramatically defeated Arizona Sunday night by 54-53 in the women's NCAA finals. It's the first time in 29 years Stanford has won the title. (We're hearing they've been rewarded with a men's-basketball-grade meal to celebrate.)
- COVID-19 hospitalizations have plateaued since mid-March, and the average number of new COVID cases are on the rise. But is this the "fourth wave" of the deadly disease or just its last gasps? As the Washington Post reports, it's not clear.
- The trial of Derek Chauvin, the ex-cop charged with killing George Floyd, continues this week. But first: This essay by The Root's Ishena Robinson explores how the livestreamed trial puts Black trauma in the spotlight.
- Attorneys representing the family of Michael Reinoehl, an anti-fascist protester killed by a federal task force outside Olympia last September, say the facts presented by federal investigators around his death "absolutely strain credulity." Read more at OPB.
We analyzed elementary reopening plans for 18 of the largest Portland-area districts. Our findings: Students in whiter, more affluent communities get up to 3x more in-person time than those in largely Black and Latino schools. https://t.co/M9CEHRQnkp #tellewa

— 𝙴𝚍𝚎𝚛 𝙲𝚊𝚖𝚙𝚞𝚣𝚊𝚗𝚘 🇲🇽🇺🇸🍎🎒✏️📰 (@edercampuzano) April 3, 2021
- Thirty-one exit interviews with Portland police officers from 2020 show what leads our local cops to turn in their badges. A taste: "The city council are raging idiots, in addition to being stupid. Additionally, the mayor and council ignore actual facts on crime and policing in favor of radical leftist and anarchists fantasy." Come for the real talk, stay for the Titanic reference.
- Portland City Council's three newest additions are challenging Mayor Ted Wheeler's request to throw millions behind the police to address the city's recent uptick in gun violence. "We can't just match the fear of violence with the threat of violence," said Comissioner Carmen Rubio, speaking to the Mercury about the trio's counter-proposal Friday. Instead, the commissioner suggest funding community programs that already work to stem gun violence and expand the city's Park Ranger program to patrol park spaces where shootings have taken place in the past.
- Here's what PPB thinks about this offer:

Press Release: Park Rangers Threatened by Suspect with Machete, Arrest Made (Photo)
Link: https://t.co/ot7sA1gqMb pic.twitter.com/tU1VjXhhGz

— Portland Police (@PortlandPolice) April 3, 2021