Portlanders gathered Monday evening to remember Daunte Wright, the 20-year-old Black man who was
fatally shot by a police officer
in a Minneapolis suburb Sunday.
Sponsored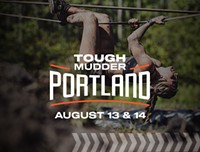 Lock in your summer adventure, Portland. Join us for world famous obstacles over a 5K or 10K distance.
The night featured two vigils: One, held in Tom McCall Waterfront Park, heard speeches from Black Portlanders on their frustration and despair in the face of yet another Black life lost to police violence. The other began in Laurelhurst Park with quiet candle lighting and ended with Portland police declaring a riot after attendees shattered windows of the Penumbra Kelly Building on East Burnside.
The demonstration signaled the start of Portland's fair-weather protest season, echoing the rage, fear, and frustrations on display during 2020's protests against police brutality. Last year's largest protests began in late May, after Minneapolis officers killed another Black man, George Floyd. Wright's death in the suburb of Brooklyn Center took place just 10 miles from where Derek Chauvin, an ex-officer charged with Floyd's death, is now facing trial.
The waterfront protest was the smaller of the two events, drawing out around 150 attendees, and decidedly more somber. Demetria Hester, a local Black organizer with Moms United for Black Lives, voiced her deep disappointment at what she described as complacency in the crowd.
"You cannot work for the system and tear it down," said Hester. "We're here because a young man died!"
The crowd listened respectfully, but failed to rouse for Hester's call-and-response invocations of, "Say his name!" The audience's mumbled response, "Duante Wright," came out like a sad sigh.
Hester might have found more in common across town with the 300-strong crowd of people in dark-hued, identity-obscuring clothing—colloquially called "black bloc"—assembled in Laurelhurst Park.
That vigil began equally subdued, with attendees gathered on blankets—some with children and dogs—spread across the grass. But shortly after 8 pm, the crowd rallied together, chanting "Say his name, Daunte Wright!" and marched through Laurelhurst Neighborhood, with police cars and motorcycles in tow, their flashing lights visible down quiet side streets. The march ended at the Penumbra Kelly Building on E Burnside and 47th, a facility which currently houses offices for both the Multnomah County Sheriff's Office (MCSO) and the Portland Police Bureau (PPB) and which served as a frequent meeting spot for 2020's racial justice protests. They were met by police.
In the past, PPB officers would order protests at the E Burnside building to disperse or even declare them riots over seemingly innocuous actions—like throwing a water bottle or standing in the road. But Monday night's marchers seemed to have more destructive intentions in mind.
"More of us than them!" the crowd chanted, as—over the course of the next two hours—people wearing black bloc swarmed the Penumbra Kelly Building's front courtyard, at first breaking windows before graduating to wresting outdoor light fixtures from their sockets. Some participants unmoored landscaping rocks from a property across the street and lobbed them towards the building's remaining unsheltered windows. At the demonstration's fever pitch, a masked person lugged a bread-loaf-sized stone up to the building, tried to throw it, failed, thought about it, picked it up, and finally heaved the rock through a window.
At 10:15 pm PPB sounded a warning, declaring the assembly to be unlawful. Five minutes later, large numbers of police arrived and the PPB sound truck declared the gathering to be a riot. Officers started bull-rushing the crowd—running at them and shoving anyone in their way. Many of those who fell during the rushes were maced. Officers also shot protesters with "less lethal" rubber bullets. Yet, officers made no arrests during this confrontation.
A series of aggressive pushes forced the crowd further East on Burnside. Here's one where this reporter was pushed into a bush. pic.twitter.com/rffWMpEgUs
— Suzette Smith (@suzettesmith) April 13, 2021
According to a PPB press release, officers "purposefully disengaged" from the crowd shortly before 11 pm, dropping smoke canisters to cover their retreat.
The remaining 50 protesters called it a night with borderline optimism. In the circle of remaining people, one shouted, "Good energy tonight. And no arrests!"
More demonstrations and vigils for Wright are expected in Portland this week.