Here's your daily roundup of all the latest local and national news. (Like our coverage? Please consider making a recurring contribution to the Mercury to keep it comin'!)
IN LOCAL NEWS:
Sponsored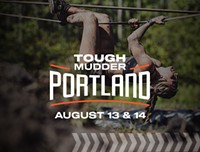 Lock in your summer adventure, Portland. Join us for world famous obstacles over a 5K or 10K distance.
• ICYMI: Portland saw its first fatal police shooting of the year Friday. According to the Portland Police Bureau (PPB), Officer Zachary DeLong fatally shot 46-year-old Robert Douglas Delgado in Lents Park after responding to an alert of a man with a gun in the area. There are many questions that are still unanswered, and we're staying on the story. However, here's what we do know about the deceased.
A conservative organization held a pro-police rally in Lents Saturday, 24 hours after police killed a man in their neighborhood. https://t.co/RXMfbemNyq

— Alex Zielinski (@alex_zee) April 19, 2021
•Today opened up the vaccine floodgates for Oregon, with all adults over the age of 16 becoming eligible for a dose. That's a LOT of people! If you need help with tips 'n' tricks for scoring a vaccine appointment, check out our handy primer!
• The Oregon Health Authority is also considering "indefinitely" keeping mask and social distance requirements in effect inside businesses, at least until the pandemic is fully in our rear view mirror. Of course, the wailing cry-babies who have complained this entire time are still complaining.
• Must read thread of the day:

(Thread) Recently we became aware of disturbing images of the assault of a local journalist at a recent protest following another death at the hands of Portland Police.

— Black Millennial Movement (@BlackMMovement) April 19, 2021
• The Portland area (Milwaukie specifically) now has its own queer-owned skatepark designed to be a "space that felt more welcoming to everyone on the outskirts of skateboarding," which sounds so cool! Our Blair Stenvick has more.
IN NATIONAL NEWS:
• Closing arguments have been completed, and jury deliberations have begun in the murder trial of Derek Chauvin, the former Minneapolis cop who killed George Floyd by kneeling on his neck for nearly nine-and-a-half minutes. In the final moments of the trial, the judge waved away the defense's request for a mistrial based on remarks made by California Rep. Maxine Waters at a protest—though the judge had scathing remarks for Waters as well. The nail-biting can now begin, and here's what you can expect from the deliberations.
The Chauvin trial judge suggested that Rep. Maxine Waters' call for protesters to "get more confrontational" if the former cop is let off the hook could boost the defense's appeal—and even lead to the trial being overturned upon appeal https://t.co/ltuoEXPExK

— The Daily Beast (@thedailybeast) April 19, 2021
• According to a medical examiner, Capitol Police officer Brian Sicknick died of natural causes following the domestic terrorist attack of January 6, due to a blot clot at the base of his brain that caused him to suffer two strokes. While the chemical irritants shot at cops by the Trumpers may not have led directly to his death, the medical examiner did note that "all that transpired [that day] played a role in his condition."
• Because of the Republicans' refusal to do anything to restrict gun ownership in this country, two more mass shootings occurred over the weekend—one in Chicago, the other in Austin, Texas—and at least nine people were killed. (The former law enforcement officer suspected of the Austin killings has been captured.) This marks the sixth large-scale mass shooting of 2021.
A former sheriff's detective who was arrested last year for sexual assault on a child, and whose wife had a restraining order on him, allegedly murders 2 Hispanic women and one Black man. https://t.co/2i26bVlucm

— jason wilson (@jason_a_w) April 19, 2021
• Oh, and this literally came in as I was writing the above blurb: "Nine injured after gunfire erupts at 12-year-old's birthday party in Louisiana." So make that the seventh large-scale mass shooting.
• Speaking of disturbing headlines: "Recent poll finds nearly half of Texas voters are in favor of Matthew McConaughey becoming governor." (Maybe they should find out where he stands politically first?)
• Time to get wild, space nerds! NASA's experimental helicopter Ingenuity took off today from the surface of Mars, making it the first powered aircraft to ever fly on another planet, and will significantly increase our ability to explore the surface.
JUST IN: First high-resolution video of Ingenuity #MarsHelicopter's first flight, taken by @NASAPersevere.

During this first flight, the helicopter climbed to an altitude of 10 feet (3 meters), hovered, and then touched back down on the surface of Mars. pic.twitter.com/CnseHsOPxd

— Thomas Zurbuchen (@Dr_ThomasZ) April 19, 2021
• HELLO, STONERS! You will be pleased to know that SPLIFF—the short flick film festival about cannabis and all things "stoned"—has kicked off and is currently running through April 24, socan get your tickets NOW.
• Let's celebrate! The Portland Mercury's PIZZA WEEK is back, starting today and running through Sunday, April 25! Check out all the slices you can score for a measly $2 each! (Whole pies are available, too!)
• And now... THE WEATHER REPORT: Another gorgeous day tomorrow with a high of 75!
• And finally, we don't usually advertise random products in Good Afternoon, News... but today we make the exception.

This is hands down still one of the best ad I've ever seen 😂😂😂pic.twitter.com/6UCWnxZEPO

— • General Zee 🎭 • (@heisTactic) February 27, 2021