Moments before a Minneapolis jury
declared Derek Chauvin guilty
for the murder of George Floyd, Portland Mayor Ted Wheeler announced a 24-hour-long state of emergency across Portland. The declaration
[PDF]
was made in anticipation of local protests spurred by the verdict's release.
Sponsored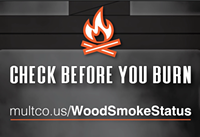 Having clean air means reducing wood smoke. Check before your burn from October 1-March 1.
During an afternoon press conference, Wheeler said that "regardless of the verdict," it was important for the city to prepare for demonstrations and potential criminal activity. He referenced recent demonstrations in Portland that have been organized by police abolitionists and have ended with broken shop windows and fires. Last night, a protest targeted historically Black North Portland neighborhoods.
"Today, a significant threat to recover from COVID-19 [in Portland]... is the group of one hundred or so largely white, self-described anarchists who engage in criminal destruction," said Wheeler.
The emergency declaration grants Wheeler the power to declare a curfew, close city streets, or shutter parking garages "to help the Police Bureau facilitate the peaceful exercise of First Amendment rights, preserve order in the City, and respond to violence as necessary," according to the official document.
Wheeler said he has not invoked any of these powers yet, but wants them to be available options. Wheeler also said that Oregon State Police and members of the Oregon National Guard are on standby to respond to demonstrations.
He also asked Portland businesses to secure dumpsters, recycling bins, a-frame signs, picnic tables, and other items that could be weaponized during a demonstration. Wheeler instructed Portland residents to keep their security lights on and security cameras recording.
The Chauvin verdict dropped just minutes after Wheeler's press conference ended. With Minneapolis jurors finding Chauvin guilty on all three charges—third-degree murder, second-degree unintentional murder, and second-degree manslaughter—it's not yet clear what that means for Portland protests.
Wheeler was joined by City Commissioner Mingus Mapps, former state legislators of color, and the chiefs of both Portland Fire and Rescue and the Portland Police Bureau (PPB). All called on "anarchist" groups to stop destroying buildings and setting fires.
"As we go forward, we have a choice to make: Chaos or community?" said Avel Gordly, the first black women to be elected to the Oregon Senate.