The Trail Blazers return to Portland Thursday night for a crucial set of playoff games in front of more hometown fans than they have seen all year.
Sponsored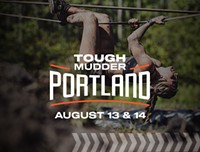 Lock in your summer adventure, Portland. Join us for world famous obstacles over a 5K or 10K distance.
It's been a strange season for our Blazers. They started off with high expectations, then struggled with injuries and the general weirdness of playing in empty arenas, and nearly fell out of the playoff race altogether. For most of the season the crushingly loud Moda Center, a place long known as one of the most daunting venues in the league for visiting teams, became a quiet neutral zone, and for the first time in Blazers' history the team held a better record on the road than at home.
Tonight they face the 3rd place Denver Nuggets, tied 1-1 in a best of seven series. With 8,000 fans expected to attend, many seated in more densely packed vaccinated sections, the Blazers will finally get to hear that hometown crowd truly roar.
While some NBA teams allowed limited attendance at the start of this COVID-shortened season, Portland was the last team in the entire league to allow fans into their arena, much to the chagrin of their star player Damian Lillard:
Lillard wasn't the only one missing the fan experience, though. Dwight Jaynes, a longtime sports journalist who covers the Blazers for NBCsports Northwest, was one of the few journalists to attend games during that time, often finding himself alone in the usually crowded media room.
"The games were not as much fun," he told me. "It was like watching a team scrimmage at a practice... eerie feeling."
Feeling the pressure, the Blazers organization worked with Governor Brown to allow 10 percent capacity for their final four regular season games. It was a small consolation, but it did make a difference. After that first game with fans back, Lillard told reporters, "I think our energy was better as a team.... Our intensity, the energy in the building, everything was just like levels up from what it has been all season on our home court."
During that long fan-less lull, The Blazers organization did what they could to create a sense of normalcy, including placing cardboard fan cutouts on the seats and piping in crowd chants and cheers throughout the games. Astute observers of those games on television could notice that those cheers were tailored on the spot, chants of "de-fense!" when the team needed a big stop, and even a chorus of boos when a questionable call was made.
Impressed with this audio improv, I tracked down the guy responsible for those sounds, Willen Sin, and asked him a few questions:
MERCURY: How many different sounds and cheers are there to choose from?
SIN: There are two different launch pads that generate the audio clips. One launch pad sets the ambient, anticipation, and thunder stick levels. While the other one controls the "ooh's," "aah's," and fan cheers that you hear on the broadcast. The systems consist of 700 individual audio clips and are randomly generated, so technically the audience shouldn't be hearing the same audio file twice in a row.
What was it like controlling that sound board without fans in attendance? Did you feel like the players reacted to, or depended on, the crowd noise even though they knew it wasn't live?
It definitely took some time getting used to the board and making sure your timing is key. The goal is to watch the game like you're a true fan and react accordingly. If you take your eyes off the game for one second and miss a play, and then react, it's very obvious. So our goal is ensure we can make the experience as seamless as possible.
I think initially the players appreciated the noise, because it added some type of normalcy to the game. The players on the team are great and don't mind showing their personalities, so sometimes you'd see the players wave their hands up and rile up the "crowd," so we'd play along with that. Anytime there were close games, we'd amp up the cheers and that just helps intensify the moment.
Can you describe the difference in your approach once the fans were back?
Our goal is to blend in with the fans and help support how they want to react. Last thing we want to do is overpower authentic cheers with speaker noise. In addition we're aware of certain moments that need to be all fans. For example, during player intros we don't add any additional cheers and just allow the fans to do their thing.
---
Willen will likely be dialing things back even more for this first playoff home game as those 8,000 fans will do their best to sound like a full arena of 20,000. The Blazers/Nuggets rivalry has led to some exciting battles in the past few years and this new injection of fans should only serve to ramp up the intensity. It's a big moment for Rip City, and let's hope it's the beginning of much more to come!
Game tonight starts at 7:30 pm, watchable on nba.tv, NBC Sports Northwest, and 620 AM.  Arthur Bradford will be doing a live text in/call in show at 7-9 pm during the game on XRAY.FM.